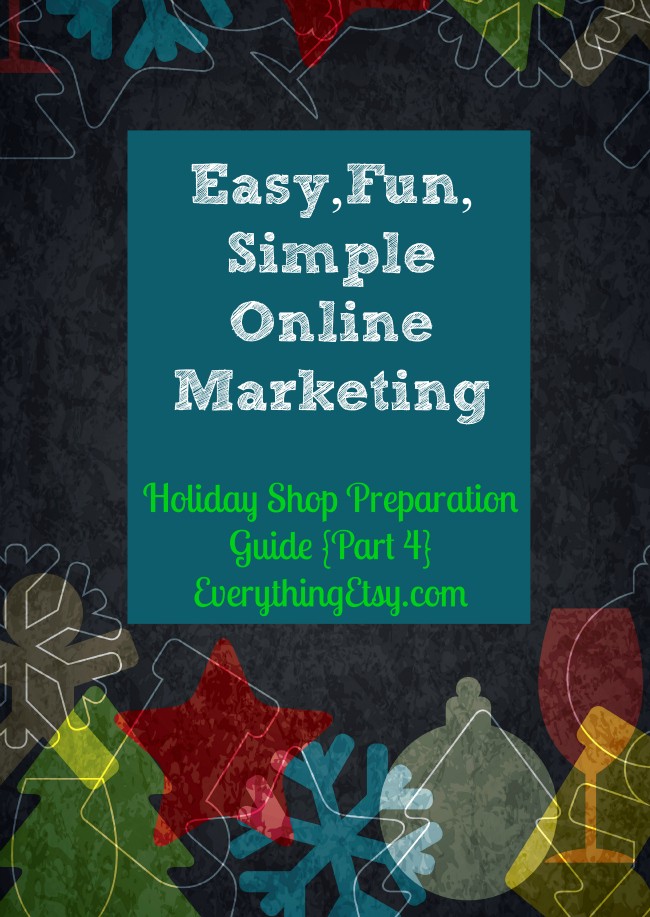 Let's talk about getting more customers. Let's talk about being more recognized as the "go to" source in your niche. Let's talk about building a following that you can reach out to when you've got something to say, something on sale, or just feel like talking!
In this post, which is part of the 2015 Holiday Shop Preparation Guide, we're going to talk about marketing. Online marketing to be more specific.
The first thing I'm going to tell you is the most important thing. If you can open up your head and heart and just let this sink right into your brain and into your beliefs, your marketing world will change forever. Are you ready? Wait for it… wait for it…
Marketing is Simple. Marketing is Fun. Marketing Works.
Marketing is Simple. Marketing is Fun. Marketing Works.
Do I need to say it again? It's important because chances are you don't believe me on one or all three of these points. And that mental block could be the primary thing between you and a great holiday selling season, and your long term success after that!
Marketing is Simple
First of all, despite the gazillion forum posts, blog posts, and fence posts with marketing tips written all over them, it's really not that complex. Marketing is simply getting your name and your offer in front of the right people. And it's doing so repeatedly and in a way that they (the right people) enjoy.
That's really not that hard to do for one person. The place it starts to seem hard is when you start thinking you've got to get in front of a million people and no later than tomorrow. THAT is also simple… you just pay a million dollars and you're done. Easy peasy.
If you don't have a million dollars, then you can go with the OTHER simple method. Get in front of one person, then ten, then a hundred, then a thousand, and so on. Eventually you'll get there and rather than spend tons of money you'll make money along the way.
Here's a simple list of online marketing to-do's:
Blog –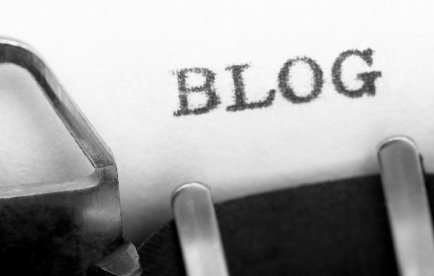 We worked on a post series once that took the word BLOG (which is short for weblog) and broke it down as "Blogging Leads to Online Greatness".
It's true. Blogging is the primary common theme you'll find behind all bootstrapped online success. Every now and then you'll see someone who only used videos (vlogging) and even more rarely someone who kept everything on social media (how risky is that!? all that effort on a platform you don't own). But 99 out of 100 online successes that weren't purely bought and paid for through advertising owe much of that success to blogging.
For an independent online seller, we still stand firm that blogging is step one in marketing. 100% of the time.
If you don't have a blog, here's what you need to do right now…
Go to both Hostgator and Bluehost and check them out. See which one feels right to you. We have had hosting accounts with both of them for years and are pleased with both. You need a domain name and a hosting account, you can get them both at the links above.
Install WordPress on your hosting account. Both Bluehost and Hostgator have easy to follow instructions for how to do this.
Start blogging.
It's really about that simple. You don't have to worry from day one about how beautiful your blog is. Just start putting some content out there. Get used to being someone who creates content. THAT is the most important thing of all. You're a content creator.
Try to block out the inevitable constant flow of tips, tricks, and tutorials at first. Limit your information about blogging at first or you'll get overloaded and won't move in the right direction.
Of course there are a million things you can do to improve. Isn't that always the case? Take any other craft or skill you've perfected. If you tried to be perfect on day one, would you have been able to do that? Of course not!
Starting is simple… it's easy… and it's all you need to do to start online marketing. If you don't love the word "blog" just call it a website. That's what it is. It's just more "alive" than some types of websites.
So give birth to a blog today! If you already have one great, let's move on… if not, go to Hostgator or Bluehost and get started, then come back.
Create Content –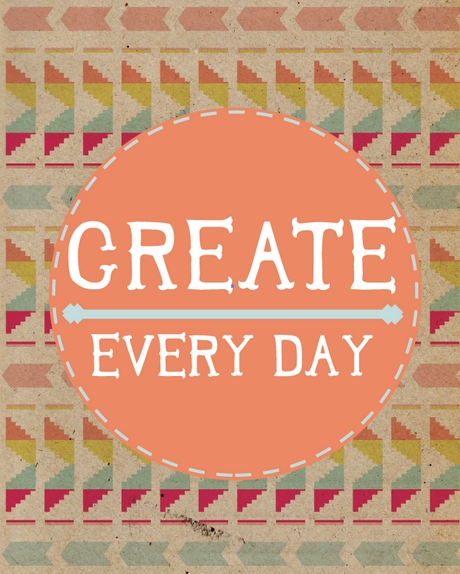 Once you've set-up your blog, resist the temptation to do anything else that includes the word "set-up" or "sign-up" or "get".
Instead focus on the word "create". CREATE. You know how to do that in your sleep!
Don't worry about who's going to see what you create, don't worry about how good it is. The primary goal is to just get moving forward toward putting content you create online. That's the task. That's how you help your business. This is a gift to your future self.
Don't take yourself or your new blog too seriously. Just enjoy and create!
Easy Types of Blog Content:
Here are some ideas to help you get started:
Link Posts – Simply create a round-up of links to awesome stuff. My 101 lists are some of the greatest sources of traffic here on EverythingEtsy.com and they aren't very complicated. They do take a ton of time to do well, so you can always start with lists of five or ten or twenty. The important thing is that you only include great stuff. Don't link to anything you don't think is well done!
Extra Credit: Think about your audience! Really at this point the main job is to "just do it". But if you really want to start off on the right foot, think about who your target audience is (who buys your stuff!?) and make a list that they would find useful or fun!
Image Posts – At the most simple level an image post can be just posting a picture you love. You can easily take it a step further by saying a few words about the picture. For example, you might post a picture of your process while you make something for your shop. Maybe that picture highlights (in a beautiful way) a particular type of raw material you are partial to. You could say a few words about what's going on in the picture, what the raw material is, where it comes from, why you love it, and why it's better than an alternative. That's a post. Hit publish and you've created content. Content that can help your business later.
Top Five Posts – Or top ten, or "Five Best" etc… this is a list post that isn't all links out, some examples from my blog are:
Quotes – Quotes are extremely "shareable" content. You can use PicMonkey to put a favorite quote over top of an image in five minutes. Make sure you include your blog URL or Etsy shop URL in the image too. Put it somewhere unobtrusive and keep it subtle. You'll get visitors this way. Maybe not many at first, but they add up. Remember, we're looking for one, then ten, then a hundred people and so on. Not a million tomorrow.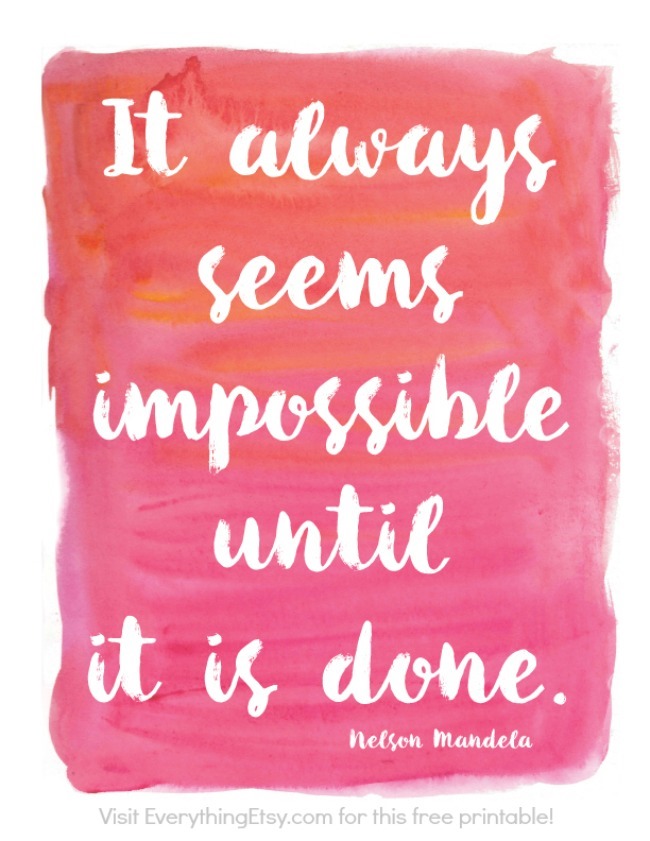 You can also make your quotes into a free download! The image above is downloadable here.
Videos – Making videos isn't exactly simple, I know. But they are getting simpler. You can use your phone to create a video or you can share some videos you found helpful. Almost any YouTube video can be embedded on your blog, see the image below. Videos are a good thing to include on your website (blog… same thing!).
Here's how video skills can help you:
You create a demonstration video of your product.
You write in your description on Etsy: "see the video of this project at (write out the full url to your blog post with video so your customer can copy/paste)"
Your customer comes to your post (which has multiple prominent links back to your etsy listing so they can purchase)
While your customer is there, they learn more about you, you build a rapport with them, they sign-up to your email newsletter (you'll get one, don't worry)
they become a customer for life.
Turns out they are a buyer for an international retail outfit and they want a gazillion of your products.
Since they know you don't have the money for that, they're wiring you all the money in the world.
You fill the order and then buy an island with the remaining profit.
See… videos work!
Videos with standard YouTube licenses are easy to add to WordPress, you can see in this animated image just how few steps are involved: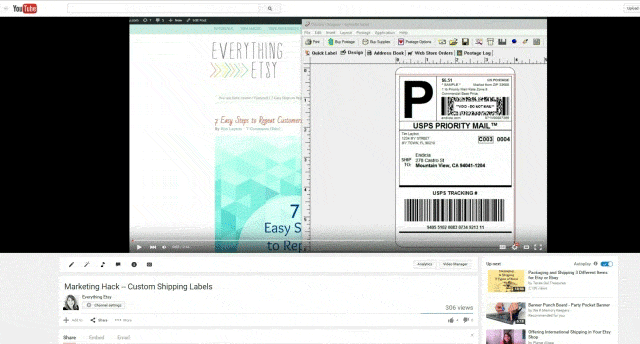 Enough about blogging for now… but really, it is the first step because everything else you do online connects to your blog. Your profile links in social media, your about page on Etsy, your email signatures, etc…. all of that points to your blog and your blog becomes the central place you build connections with your audience. And it is YOUR blog… your space, not Facebook's or Etsy's or anyone else's.
If you don't have a website/blog start now at Hostgator or Bluehost.
Social Media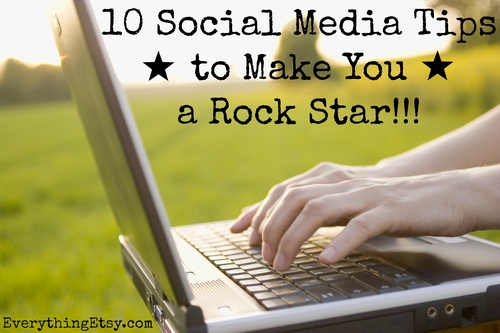 Social Media has gotten to be a pretty big term.
And remember we're talking about simple and easy marketing, not an overwhelming crushing flood of insurmountable obstacles that bury you alive and slowly suffocate you until you die a painful death. No, we're talking about nice easy simple marketing.
So with that in mind let me say this… all social media is essentially the same thing. So just pick one site and start there.
Once you get the hang of it and it kind of becomes second nature to you, you can expand your reach a little at a time.
It's really up to you, Twitter (@EverythingEtsy), Pinterest (@EverythingEtsy), Facebook (@EverythingEtsy), Instagram (@EverythingEtsy), and umpteen others are all ready for you right now. Just pick your favorite and forget the rest exist for awhile. Lose their number and enter a committed relationship with your one true love social media site. Bliss awaits.
Once you've done that, social media marketing is pretty similar to blogging.
Share great content you find
Share inspiring quotes
Share what you're doing in your life
Share what you're making today
Share your offer
Share your blog posts
Share your videos
Share your followers stuff
Share your friends stuff
Respond to conversations as much as possible
Listen for people talking to you
Use pictures!
Be nice!
Have fun!
Do these things consistently and you'll start growing a following. That following will drive traffic to your links, your etsy shop, your blog posts, your videos, etc.
Here are a few more posts on using social media:
How to Get Moving Quickly
There's no secret recipe for making all this stuff work overnight. If you keep at it, it will work, that's for sure.
Getting it to work in time for this 2015 Holiday Season is another thing completely.
There are two ways to get things to move fast.
One is to get shared by the biggest online people you can find. By "big" I mean people with lots of followers, large email lists, and lots of blog traffic.
I wrote a post recently about how to get featured on blogs.
The second way is to advertise, which doesn't actually have to cost a million bucks, and that's what we'll talk about next in the 2015 Holiday Shop Preparation Guide.
Sign up below.
For an in-depth 3000 word free guide to setting up a blog for your Etsy shop see this post: