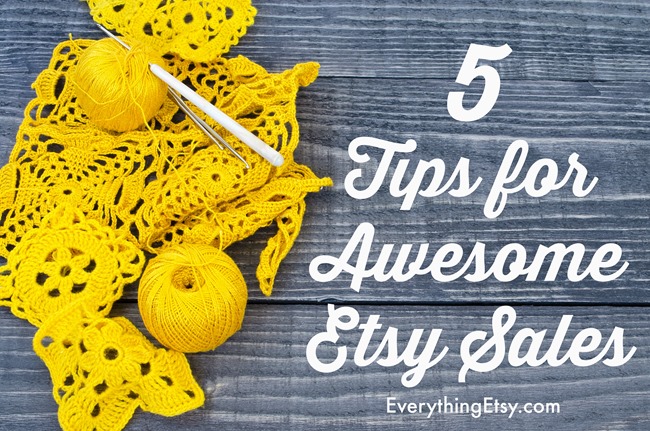 Awesome Etsy sales can turn your hobby into a business in weeks! Growing your shop isn't rocket science, but in our busy daily routines there are key actions that might easily get missed. Many sellers don't even plan to make a living from their Etsy shop when they start out. These Etsy tips will help you increase your sales.
Since starting Everything Etsy about 6 years ago I've visited thousands of Etsy shops. I've seen it all! Etsy is full of a wide variety of shops, but very successful shops have many of the same things in common. The same ideas work for handmade, vintage or suppliers. Here're a few tips to help you grow your shop to become one of the best!
1. Are your items shareable? Do they appeal to a large audience or only a select few…like your relatives? Sometimes friends and family will buy your handmade items just because they're made by you. They love you and they might not be the best people to ask for advice on your Etsy shop.
You need to look at your shop from a buyer's viewpoint and realize that the buyer is the one you want to impress. Attract them with shareable items. Give them something to brag about buying. Give them something they HAVE to have right now. Give them something they want to tell the world they bought because it's just that awesome!
Creative products will be shared. If you sell handmade purses ,add something unique like a large button or a crochet flower. If you sell paper flowers, add glitter to make them stand out in a crowd. Do something to set yourself apart from the rest. Unique items are shared, and you need to use your creative skills to make your items extra special.
2. Do you have a wide selection? Visiting a shop with a handful of items isn't as exciting as a shop full of pretty things. Buyers want choices and you can easily give it to them! If you sell a scarf in 3 colors, go ahead and show each one in another listing to build up the number of items in your shop. The more items you have the better your sales will be…trust me. Grow your shop to 100 or 200 items and watch the sales grow at the same time.
The buyer gets to browse a large selection and pick out just what they want, and you get more search traffic from so many listing with a wider variety of keywords. If you are looking to turn your shop into a business and not just a hobby, this is a must!
3. Do you have a variety of price points? Are all your items the same price? Do you have a shop full of fabulous paintings that are beautiful…and expensive. Give the casual shopper something to buy with special prints of your work or packages of note cards. Make it easy for them to buy something today with a variety of items to fit any budget.
4. Have you improved your photos lately? Are you items front page worthy? Take a look at the front page of Etsy and see what you can learn to improve your photos. There's always room for improvement, even if it's in showing your item from a different angle.
Clothes are best shown on a model and jewelry pops off the page with simple, light backgrounds. Lighting can make a world of difference so take a little time planning before you photograph your next item. You won't see dim photos on the front page no matter how beautiful the item. It can take practice, but this is one area of selling online that you need to make a priority. Change up your photos and you might find yourself featured on blogs and magazines…that's always a good thing!
5. Do the description make you want to buy it? If you read your item description for the first time would it make you want to own it? Listing facts is only part of a description. Give the buyer the story behind your handmade item. Share why you made it, where its made, how you make it, or even the feelings of what it would be like to own it. Read more about telling a story with your description.
These tips should get you started on the road to Etsy success. Everyone selling on Etsy knows about the hard work that has gone into making their items and why they are worth the asking price, but you still have to convince the buyer. Go through each one of these tips and look at your shop like you are the buyer. Make sure you know why you need it, want it, and have to have it!
For more information on selling on Etsy visit our Etsy Business Section, or Join our new community for makers…Handmade Tickle.
Care to share a tips that has worked for you?
~Kim