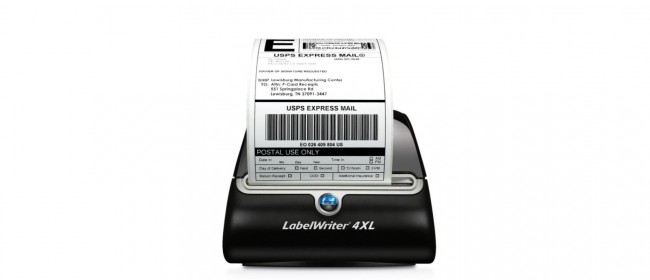 Save $130.00 w/ code: EVETSY1
Considering I'm a full-time blogger and Etsy seller, you'd think I'd be more techie. And to a point I am… I love my camera, my iPhone, and my iPad (everyone should have one of those), but I'm generally unimpressed with most of the tech in our house. Except for the label printer!
I can't even begin to tell you how much time I've saved thanks to our Dymo LabelWriter 4XL printer. We got this printer a couple of years ago when we first started printing our labels with Endicia and the combination of the two has just been a whole new world.
Before that I printed labels on plain paper and cut them out. It seemed like the thing to do at the time…
To help you get ready for a great holiday season, Endicia is offering an exclusive discount to our readers. For a limited time you can get the Dymo LabelWriter 4XL label printer (which just keeps on printing… the rolls go on and on and you never need to buy ink) for just $159.95 – it's the lowest price I've seen to date.
Click Here and use the coupon code EVETSY1 (for a limited time)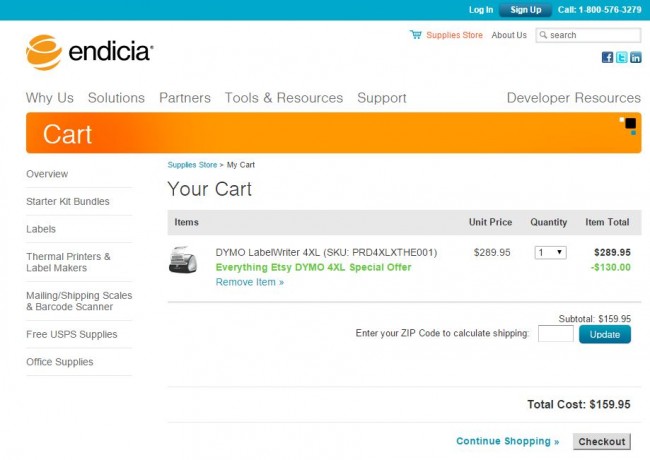 Videos Featuring the LabelWriter
We've shown a few Endicia and Marketing tips videos using the printer…
and…
Works Great with Endicia
The way we use this printer every day is in conjunction with our Endicia account. Endicia is an online shipping provider and is a great tool for keeping all of your shipping label purchases in one place and at the best possible cost.
One of the things we love about Endicia is that they are constantly upgrading with services that are designed specifically for online sellers like us.
We've written about a number of these updates in the past…
And if you ship to Brazil or Mexico you really want to know about the new Endicia Global Service which is going to transform e-commerce with Latin America.
Endicia's Offer to You!
Combine the sale above with this special offer from Endicia and you'll soon find yourself set-up to ship like a pro!
Get 90 days free trial of the Endicia software and a free Dymo 5lb digital scale… hard to beat that! Etsypreneur.com/EndiciaOffer
Anyway, I didn't mean to ramble… I just wanted you to know about these deals.
Have a great week!
~ Kim