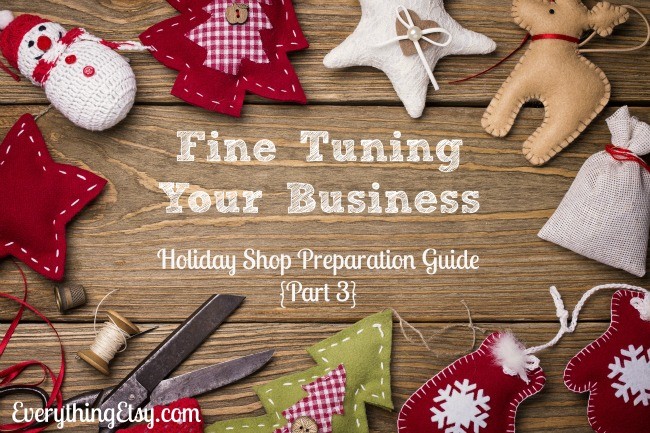 Ok, let's keep going! So far in the 2015 Holiday Shop Preparation Guide, we've talked about really understanding our offer and getting ready for a rush by stocking up.
Now we're going to start making the shift from "being ready for sales" to "bringing in more sales". That's what you really want to talk about anyway, right? If marketing is your big challenge you're not alone and we're going to talk all about it!
But before we do that, let's spend just a couple of minutes talking about preparation and business systems… just a little. This stuff isn't as exciting as marketing but it is as important!
Fine Tuning the Machine
Instead of getting in-depth and causing you to fall asleep before we ever get to the fun stuff, we're going to go with a simple list here. Just look at this and ask yourself how your business stands in each of these areas. If you work on these areas your business will run better, your customers will be happier, and you'll make more money. Good things right?
If the list leaves you with more questions than answers, let's talk about them in the comments after this post.
Before we start the list though, we'll explain what we mean by the word "system". We're talking about a method, a step-by-step process, preferably written out so you can check off the steps as you go, but if not written at least memorized or physically set-up to be automatic. An example of that would be a packaging system that had all of your packaging materials lined up in a row in the exact order you normally need them. That's a system.
Unless you're a complete superhero, you will not be able to have a system for everything right away. That's ok. Just working towards having a routine for these things is the way to go. Using the packaging system example above… We don't personally have that! We wish we did, but we don't have the room or the right storage furnishings… and we move between two locations which messes things up right quick.
Nobody has all of this stuff nailed down. It takes most businesses years to get into a real groove!
But having a Fine Tuned Machine is great when and where you can get it, so here are some things to think about.
Do you have a system for production? – If you make your items, are all of the "ingredients" arranged in a manner that makes it easy for you to get into a good flow?
Do you have a system for sending out orders? – Packaging, shipping, postage, thank you notes, packing slips or printed orders, business cards, etc.
Do you have a system for building customer lists? – Creating email lists, staying in touch with customers, following up on orders.
Do you have a system for keeping track of your stock? – Knowing when you're running low, knowing the value of any high-end stock you keep, knowing if you have enough of something to fill a large order.
Do you have marketing systems? – We're going to get more into that in the next segments of this guide.
Do you have accounting systems? – Not my favorite subject but it is important to know if you're actually making a profit or not!
Now is the time to make some improvements! Before the holiday rush gets here, if you can make some improvements in any of these areas, you'll be glad you did. What doesn't seem like a big deal when things aren't busy can make a world of difference when the orders start flowing.
One of the best business books ever written is all about systems and how they can transform a small business –> The E-Myth by Michael Gerber
How to get the orders flowing?
In the next segment of the EverythingEtsy.com 2015 Holiday Shop Preparation Guide, we're going to start talking about marketing and how you can rock it this year! We're going to talk specifically about how you can create content that builds your business and how you can get that content out there. Then we're going to talk about advertising to reach more of the right people.
Sign Up Here –
Sponsored by Endicia