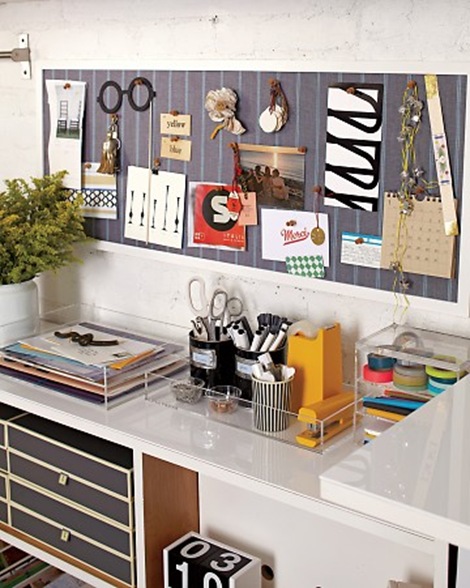 Need a simply organized space to create in? Pick up a few ideas from this area focusing on function with a clean contemporary style.
The bulletin board is a great addition made from a large piece of fiberboard and fabric…frame it up to complete the look.
Using white cabinets can make it easy to change up the colors of your room without spending a ton. Add a touch of yellow or red to kick it up a notch.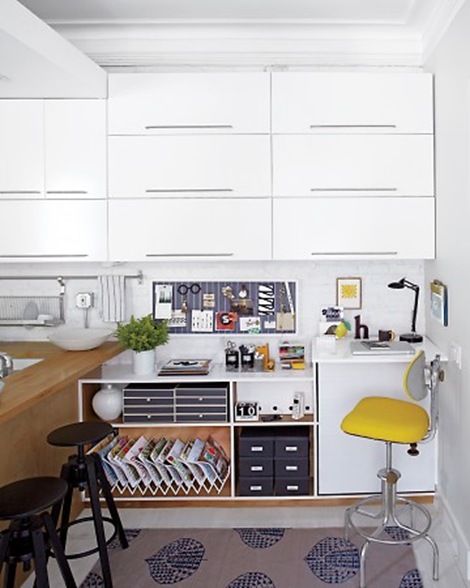 This creative space belongs to Martha Stewart Living home editor Anthony Santelli and is located right by the kitchen.
The areas blend together with the kitchen's glossy Ikea cabinets and matching acrylic desktop.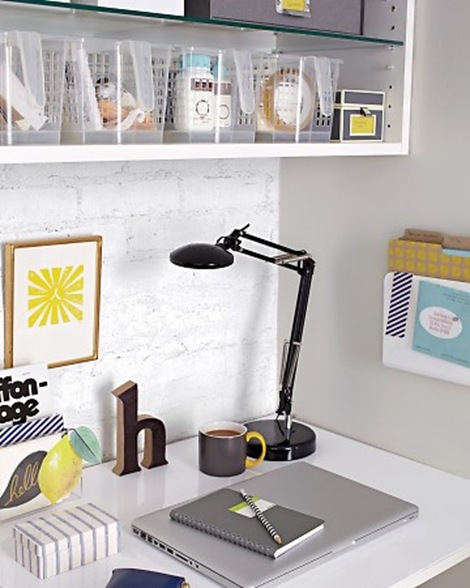 There are endless organization ideas in each area to keep everything under control and looking great. Lots of clearly marked storage boxes, plastic bins, and acrylic trays are arragned to handle supplies.
This space has a clean and creative look that fits great in this apartment. Visit MarthaStewart.com for the before photo of this area and other tips and tricks for organizing your space.
Do you like your creative space simply organized or covered in tons of color and creative inspiration?
~Kim

Interested in cool DIY ideas for your home?? You might enjoy this fun post that includes 25 Ikea Hacks!

I can't get enough of these creative ideas!

Got an Ikea hack to share? Email me.
If you love organization ideas… you should see this beautiful list of DIY ideas: