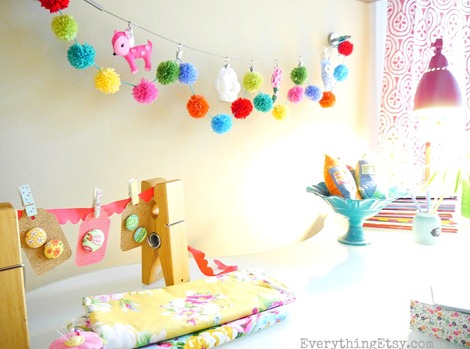 Pom Pom Garland
There's nothing like getting ready to take photos and realizing that it's a super cloudy, rainy day…bummer. Anyway, just imagine these photos with beautiful natural light shining through the window…ha!
It all started with the pom pom garland I made awhile back that I planned to use for a party. Well, that didn't work out but this sure did! I love the way the pom poms look above my desk. Honestly, pom poms in pretty colors just make me happy. So, this is a good spot for them!
When I posted a peek of this on Instagram yesterday there was a big response, so I know I'm not alone in my pom pom love. There was one comment about not being able to make even pom poms…well, this post on making easy pom poms should help with that problem. All my pom poms turn out the same size super quick!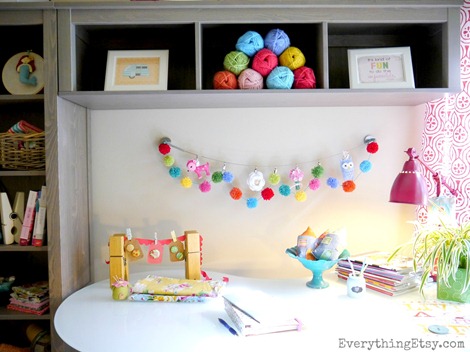 Everyone needs a little pom pom garland somewhere in their home, don't you think?
I already had the metal curtain wire from Ikea on my wall with little hanging clips. This is the perfect way to decorate a wall and change it whenever you feel the need.
My desk is huge and glass…I love the look of it, but the glass can be a bit cold sometimes. I never thought of that. It's from Ikea, of course.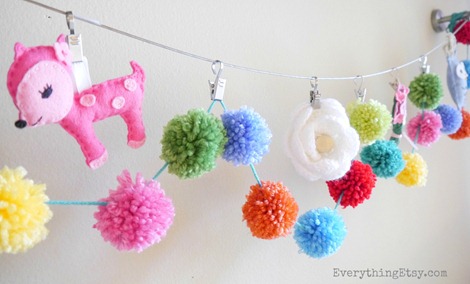 The little Dottie Deer plushie pattern can be found in my shop and the owl at the end is in my book, From Felt to Fabulous! They seem happy hanging out with the pom poms.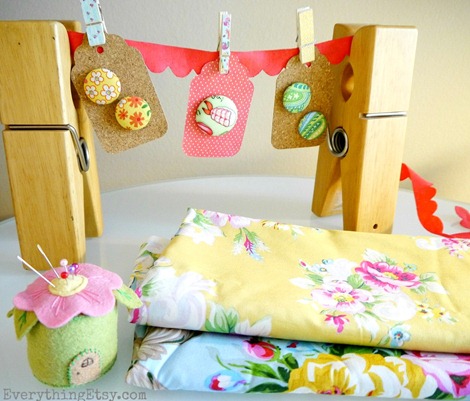 Here's a peek at an upcoming project…fabric covered button ponytails holders.
The fabric is from Sis Boom Fabrics…you can't beat Jennifer's colorful designs!
So, tell me about your pom pom creations! What have you made?
~Kim
Keep up with the latest tutorials, printables and all-around cool, crafty stuff by following me on Pinterest, Facebook,Instagram, Twitter,Google+ and subscribing to Everything Etsy with the email subscription box below!