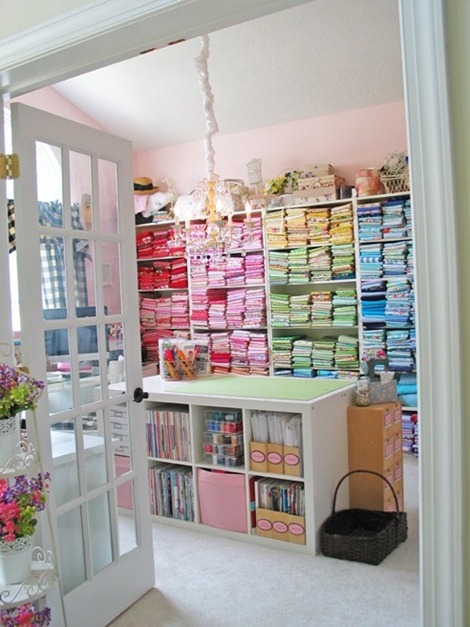 This amazing sewing room is as beautiful as it is functional! You've seen dreamy spaces on here before, but this one is DREAMY! Olabelhe has one of the prettiest workspaces I've ever seen. It's partly because of the colors, the light, the pretty decorative touches, the stacked fabric organized by color…oh my, I love that look!
You can visit the Olabethe Shop full of pretty dresses and patterns. It's very inspiring and this is where they're all created!
Here's a bit more of this dreamy sewing room…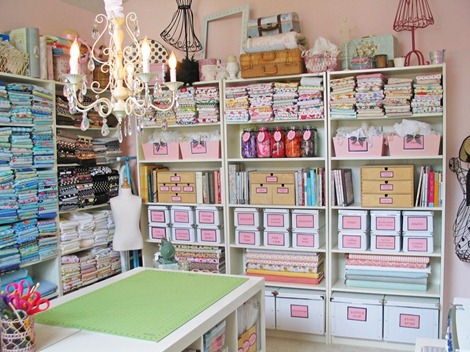 You didn't think that was all the fabric in this sewing room, did you? Well, there's more, much more!
I wish I could throw a crafty party in this beautiful space! It would be a blast creating anything at all, or just sipping a cup of coffee and being surrounded by beautiful craft supplies!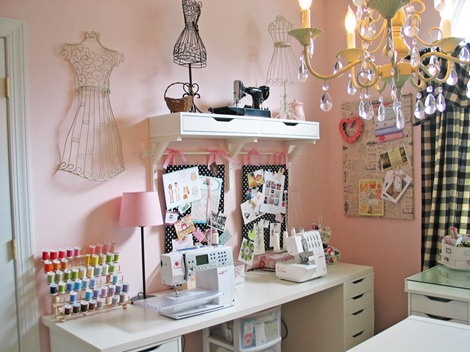 Hop over to Olabelhe to see the rest of this sewing studio…you will be captivated by all the pretty photos!
Maybe this space can inspire you to create an amazing little nook or craft room for yourself. I'm sure you can find an idea or two here that would be perfect for you!
What's your favorite part? Is it the stacks and stacks of fabric?
~Kim
Looking for more creative space inspiration???
If you love organization ideas… you should see this beautiful list of DIY ideas: