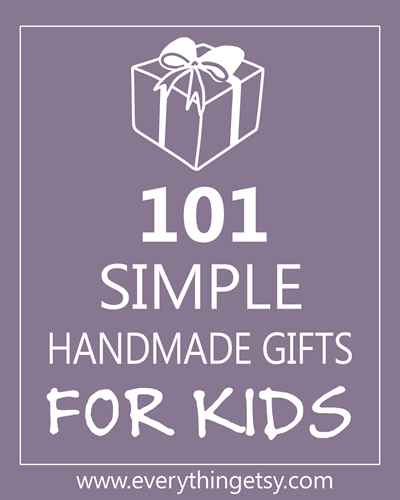 These simple handmade gifts will make the kids in your life squeal with delight! You don't need a ton of time or special skills to make most of these…they're simple and cute! What a great combination!
There are a few things on here that I'd like for myself…don't miss the plush fox, stamped leather bracelets, or candy buttons. You are going to be thrilled with these cool tutorials for boys and girls of all ages…even those hard to shop for teens!!
That should give you some ideas and make you look like the Creative Diva you really are…right?! All the kids will love you!
Feel free to share this post with your friends…they'll think you are the best friend in the world! Thanks so much for all your pins, tweets and blog posts about my previous 101 holiday posts. You are awesome crafty blog friends!
If you love creative links, please subscribe to Everything Etsy! New subscribers make my day!
Have fun creating some of these simple gifts for kids!
~Kim
Hooked on tutorials??? You might enjoy these posts…