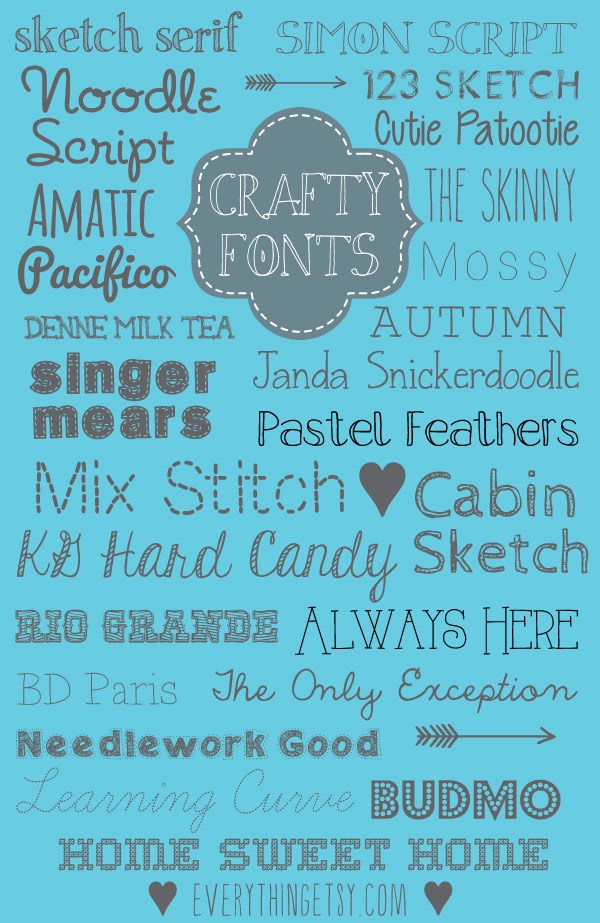 I love free crafty fonts!
These fonts are perfect for your crafty projects and you can download them all in minutes! I love having just the right font for my craft projects, blog images, Project Life cards and any other idea that I dream up that day. It's a super big pain to have to stop and search for something that looks just right. Have you ever had that happen?? It drives me crazy!
Download all these and you should be ready to go on any crafty project! Click on the links below to download…have fun!
Sketch Serif l Simon Script l 123 Sketch l Cutie Patootie l The Skinny l Pacifico l Amatic l Mossy l Autumn l Denne Milk Tea l Singer Mears l Janda Snickerdoodle l Pastel Feathers l Mix Stitch l Noodle Script l Cabin Sketch l KG Hard Candy l Rio Grande l Always Here l BD Paris l The Only Exception l Needlework Good l Learning Curve l Budmo l Home Sweet Home
These are free for personal use and some are fine for commercial use…please check them first to see if they will work for your project.
Do you have a favorite font? I have more than a few…lol!
~Kim