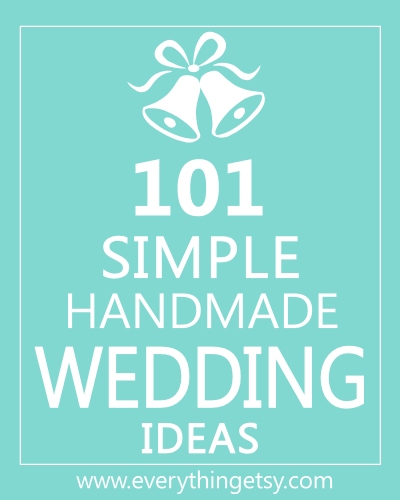 What could be more beautiful than a handmade wedding??? These simple handmade wedding tutorials will help you create your dream wedding without going into debt! Many of these wedding ideas are simple, no-major-skills-needed kind of ideas. Simply Beautiful…that works for me!
Gather up your sweet bridesmaids and enjoy an afternoon of planning the perfect projects for your big day. These are a great place to start…
Create a wedding that's perfect for you and your budget. Handmade weddings are fantastic! I love, love, love so many of these ideas! Maybe I need to marry my sweet husband all over again. 🙂
If you love creative links, please subscribe to Everything Etsy! New subscribers make my day!
Thanks so much for all your tweets, stumbles, Facebook likes and pins on my Handmade Gifts and Free Printables posts…you are the coolest crafty friends!
Got a friend getting married soon? Share this list with her and I'm sure she'll buy you lunch…maybe…it could happen. 🙂
Have fun making your Handmade Wedding Day fabulous!
~Kim
P.S. You'll love this new post…