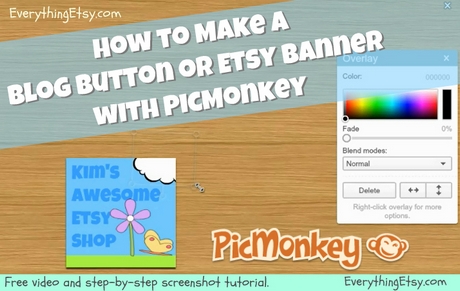 (don't miss the video and free blank image downloads below!)
One of the first things you need when you start blogging, selling online, or getting into social media, is a button or profile image. But wait, that's not all… you'll probably end-up needing dozens of images all over the place. For example:
Etsy banners
Facebook Cover Photo
Profile Photos for Facebook, Google+, etc.
Blog advertisement graphics
Graphics for your own blog or shop
Tags for your Etsy shop items
Business cards
etc., etc., etc.
Use PicMonkey for Free to Create Buttons and Banners
I wrote a quick post the other day about how awesome PicMonkey is for photo editing and doing simple things like placing text on-top of your images.
Today we're going to show you how to go even further and create entirely custom graphics.
All you need is some time, a warm cup of coffee, maybe some clip art or images you want to use, and a whole bunch of creative can-do attitude.
Video or Pictorial Tutorial — You decide!
Pictorial tutorial? Don't laugh. I don't know what else to call it. It's first and the video, done by my hubby Tim, is second.
Step 1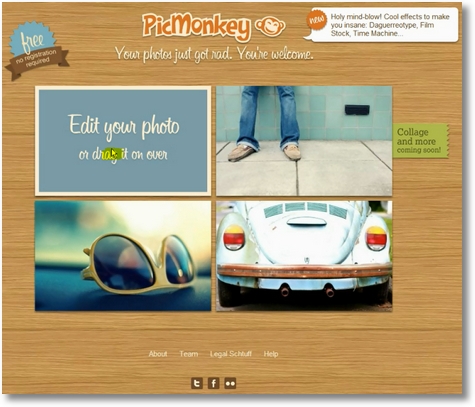 Visit PicMonkey.com and click on "Edit Your Photo". Then, using the free files provided at the end of this post, choose whichever size you want to work with.
For the purposes of this tutorial we're using the 200×200 size.
Step 2
Once you open the blank image you're going to work with, you'll have a plain white box on the screen.
Using the menu icons on the left, go down and click "overlays" which has an image of a little heart and a couple of cartoon talk bubbles.
Once those options reveal themselves, you'll see a button at the top labeled "your own"… choose that one.
Step 3
The previous step will lead you to bring in another image to this image. The real key to success in creating great graphics is in having a great selection of images to choose from.
Before you start, collect a group of images you want to work with. You may want to crop just particular parts of images, or download various clip-art and graphics from the Internet.
You can also use things you already have had made such as your logo.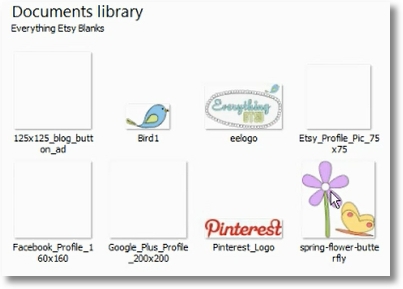 For this tutorial, we'll just choose a simple image of a flower and a butterfly that I had on my computer.
When you select an image, PicMonkey will bring that image into your file as a new layer.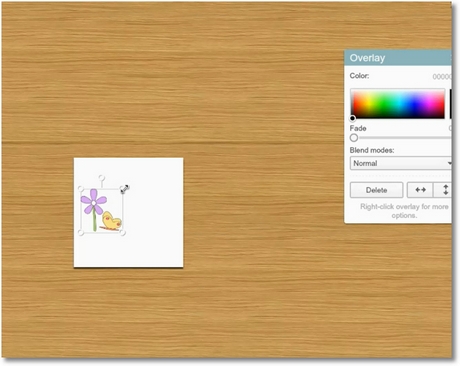 You can resize that image and move it around as you wish.
Step 4
You can then start adding elements to your design. In this example I'm adding a rectangle and choosing a color to give the effect of grass under the flower.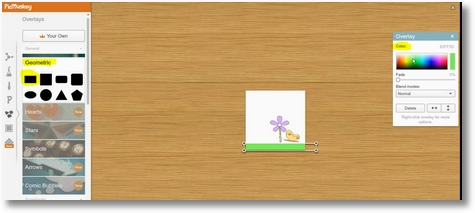 You can play with the large number of overlays available within PicMonkey, or you can add more images of your own.
Step 5
Add some text and play with fonts. PicMonkey comes with a great selection of fonts. All free. (for now, they hint toward charging one of these days)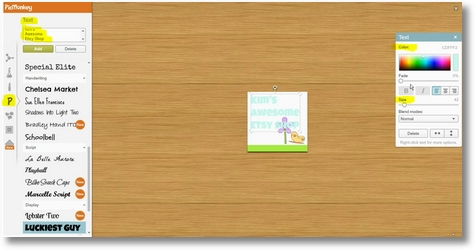 You add your words in the little text box above the list of fonts. Make sure you use "enter" to create any line breaks you want in that text box. You can also do each line of text as a separate layer.
Your text options include:
font
size
color
opacity (called fade)
left, center, or right justify
Move your text around, play with colors, and even adjust line breaks. As you can see above, I had "Etsy Shop" on one line, but I decided to put shop on another line. I did that by going to the box at the top of the list of fonts and moving Shop to the next line there.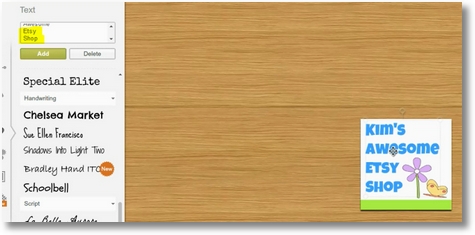 Step 6
Learn to use layers.
It's important to think of your work in terms of layers. Each time you add something, that is a new layer. They go in order of placement unless you change it.
So at this point my image is a "stack" of layers in this order, the top (number 1) being the most recently added item:
Kim's Awesome Etsy Shop
The green rectangle at the bottom
The image of the flower and butterfly
A blank white square
I've decided I want a little bit of the flower to go over top of part of the words. So I need to move that layer up to be above the words.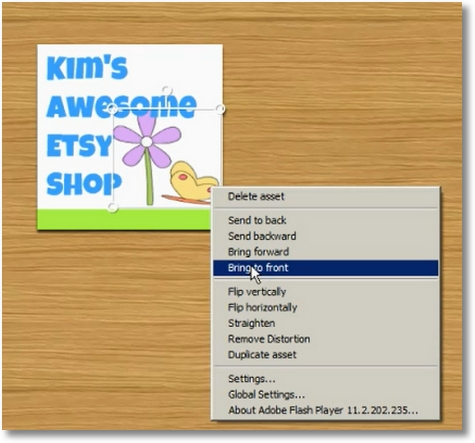 I right-click on the image I want to move and choose "bring to front" which takes it all the way to the top. You can also move layers up or down one step at a time by choosing "bring forward" or "send backward".
Step 7
Finalize your design.
I added another rectangle to create a blue background. Then I added a talk bubble and flipped it upside down to create a cloud.
Any part of an item that you drag outside of the original image area will not be saved, so I could use only part of the talk bubble. I left the little arrow out of the image.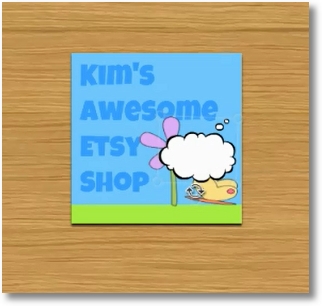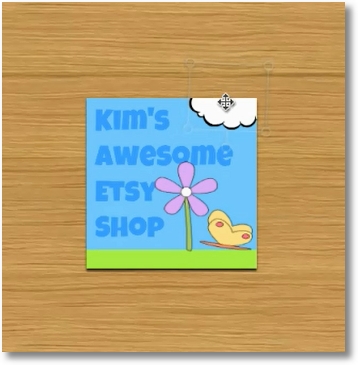 Step 8
Save your image! You're done.
The save button is at the bottom of the left column. Then choose a name for your image and you're all good.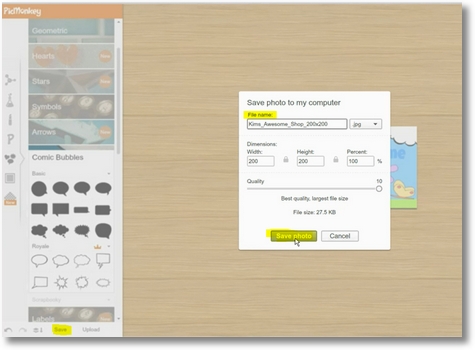 That's it!
Like I said, the hardest part is having "components" to work with. You'll learn to find stuff online, how to create your own parts, and how to crop other images to create parts.
With a little practice, you'll be creating incredible buttons and banners in no time!
See More Detail in The Video!
The video below follows all of the steps above and discusses them in much greater detail. It also goes on to start on an Etsy Shop Banner and demonstrates how to use a picture from your Etsy shop in the banner creation.

Free Blank Image File Download
Just below is a link to a zip file with all of the blank images you'll need to work with.
Free Blank Image Files
Download the above file which includes free "blank" images
which are already the correct size.
Using a Windows computer you usually just right click on the link above and choose "save link as" or "save target as" and then save the whole folder to your computer.
Then you find the folder and right-click on it again, then choose something like "unzip" or "extract". I usually choose the option that creates a new folder, such as "extract to folder". This creates a new folder on my computer that has all of the above images inside.
NOTE: If you have trouble downloading the entire ZIP file, the sizes below are linked directly to that particular image so you can get them one at a time. When you click on these files a new window will open. You won't be able to see the picture because it's solid white, but it is there. Right-click and choose "save image as" to save it to your computer.
The folder above includes all of these:
———————
Also, don't forget we have a whole
collection of almost 100 free etsy banners
you can use as a base for your banner.
Enjoy and keep learning!
~ Kim & Tim