We recently held a little reader survey asking what kind of Techy Tutorials might be helpful to you. The winning subject was Etsy Shop Analytics, how to track them and how to use them.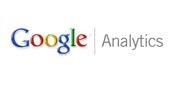 Setting-up the analytics is easy, so we'll start with that. Tracking and using the information is a bit more challenging, but we're going to cover it in detail in upcoming posts. If you want to be sure not to miss any of the posts, subscribe to Everything Etsy by email, click here.
Step-By-Step Guide to Setting Up Google Analytics for Etsy
1. Sign-Up For a New Account
If you don't have an existing Google Analytics account, go here. (will open in a new window)You can sign in with an existing Google Account, or start a new one.
Aside: Having a "main" Google account can be very helpful when you work online because it's easy to access all of your Google products from one place. I use Gmail, Feedburner, AdSense, AdWords, Analytics, and Google Docs regularly and can get to all of them from one screen.
If you already have an Analytics account, you'll usually go to the "Overview: all accounts" screen when you access Analytics. In the orange bar at the top of the screen, there is a drop-down menu which lists all of your accounts. At the bottom is an option for "create new account".
Either way, you'll make your way to something like this:

2. Enter the URL and Account Name
Here's where we'll mess-up the people who are just looking at the pictures… I made a smallish error in the picture below. Where is says Website's URL – enter www.etsy.com – In the picture I left out the www – might not matter, but it can matter sometimes. I went back and changed it. The URL for the main Etsy site includes the WWW.
Do NOT put your direct shop link here. Only the main URL for etsy. You'll only get stats for your shop. Don't worry.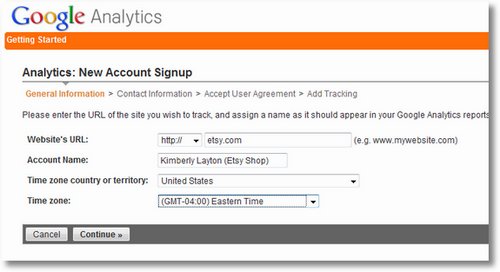 Where it asks for an account name, the official Etsy instructions say to use this format: yourshop.etsy.com, but it really is only for your reference in Analytics and you can use whatever you want.
3. A Few Simple Steps
Enter your name on the next screen.
Agree to the terms and conditions.
Decide if you want to participate in data sharing. (either way is fine – your preference)
4. Select Single Domain and Copy Your Tracking ID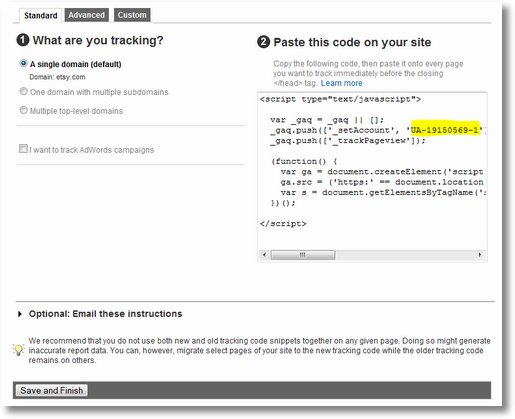 Copy the section of the code that is highlighted in the picture. If you don't feel like getting it here, it's all by itself on the next screen. Either way, you need that bit of numbers and letter that starts with UA. Make sure not to select the single quotation marks on either side of the Tracking ID.
Be sure to hit "Save and Finish"
5. Enter Your Tracking ID in "Your Etsy"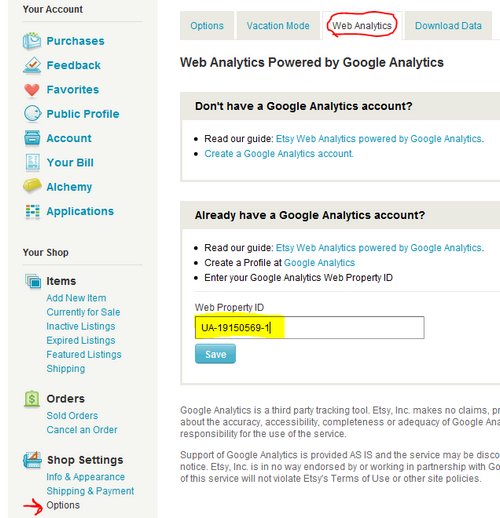 Log-in to "your etsy" and find the "Options" link in the left column under the heading "Shop Settings". Click on that and find the tab at the top to select "Web Analytics".
Enter the tracking ID in the box labeled "Web Property ID", and hit save.
That's it. You've set-up Google Analytics on your Etsy Shop. You can access it at any time through your Google Account, or by visiting www.google.com/analytics and logging-in there.
Important: Your account won't start updating immediately. GA updates once per day, so sit-tight and check back in a day or two. The data gets more useful over time, so don't worry about it much for awhile.
What will this tell you?
In upcoming posts, we'll get into detail on the data and information you'll get from doing this and how you can use that.
How many visitors you're getting and the growth trend
How long visitors stay in your shop
What day of the week, if any, is best for your shop
Where are your visitors coming from
What keywords are you getting search traffic from (and how to grow that)
Much more!
If you want to be sure not to miss any of this, sign-up to get our posts by email. I'd also suggest signing-up at Etsypreneur.com and joining the Website & Blog Techy Stuff Group.