This post is a continuation of a multi-post series on setting-up, analyzing, and using Google Analytics for your Etsy Shop. The first post is here. Be sure not to miss the next post by signing up to get EverythingEtsy.com by email.
The Accounts Overview Screen
When you first log-in to Google Analytics, you'll see the Accounts Overview screen, which shows all of your accounts. For the purposes of demonstration, I've taken a screenshot of the first two listings on our list of accounts:

This screen is arranged with six columns of information for all of your websites. If you're tracking more than one shop, your blog, website, etc. you'll see them all here.
Name – The account name you gave each site when you set-up Analytics.

Visits – By default this is showing "unique visitors" over the last thirty days.

Avg. Time on Site – Analytics tracks how long each visitor spends on your overall site, per visit.

Completed Goals – Advanced use allows you to set-up sales goals, traffic goals, etc. We've never used this feature so can't comment on it.

% Change – How does the site's traffic over this 30 day period compare to the last 30 day period. If you see N/A here, it means that you're looking at an account that has been recently set-up so there isn't a previous month to compare to.
The Account Dashboard
By clicking on the account name on the overview screen, you'll be sent to an interim screen that seems to have no value to me. From there, you click on the "view report" link and are brought to the account dashboard.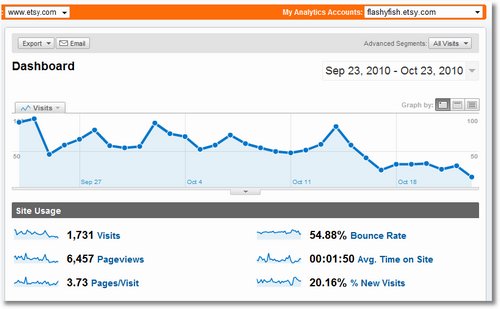 The top of the dashboard screen shows you a graph of your traffic over the last thirty days. You can change the date range you're looking at using the drop-down menu button next to the dates.
The graph helps you easily identify overall traffic trends. You can also make a note of something you want to remember, such as why your traffic increased or dropped, if you know. (see below for instructions on how to do that)
You can also add lines to the graph for particular traffic segments, so you can see which traffic sources are performing best. We'll show that below as well, but first let's look at a couple of the top indicators for your site and what they mean.
Visits – a "unique" person on a given day. If I visit my site 100 times on a day, Google Analytics won't count all of those as unique visits.

Pageviews – Every time I click to see another item in an Etsy shop, or look at the seller's profile, sales, etc., I'm generating another pageview, but still only one visit.

Pages/Visit – This lets you know how many pages on your site the average visitor sees, the higher the better usually.

Bounce Rate – This is the percentage of people who arrive on your site, and then leave without clicking anything that would keep them in your little domain. For example, if I show up in your shop, say "ewwww" and hit the back-button, I bounced. If I click on the Etsy logo and go to the home page, I bounced. If, on the other hand, I click on a different picture of an item, or look to see your shop homepage by clicking "shop", then I have not bounced. The lower this number the better. If you can get near 50% you're doing extremely well.

% New Visits – This is a great number for knowing how much repeat traffic you're getting. You want new visits, but if this number is super-high, then you know you need to work on your shop to make people want to come back.
We'll look at the lower half of the Dashboard Page in the next post. But while we're looking at that graph, lets look at some ways to get more information from it.
Making a Notation on The Traffic Chart
You might want to remember a year from now why your traffic dropped or spiked. In this case, for example, we know that Kim got busy and totally stopped renewing her listings, which she normally does pretty frequently. So we want to remember that later when we look back and say "what happened here?".
You can make a notation by clicking on the point in the line that represents a day, the little dot.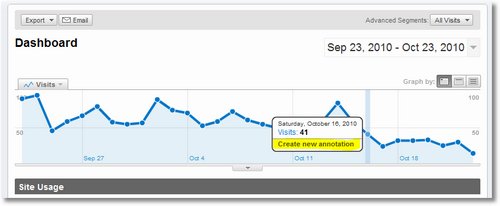 Click on the "create new annotation" link. Then type in your annotation in the box that appears.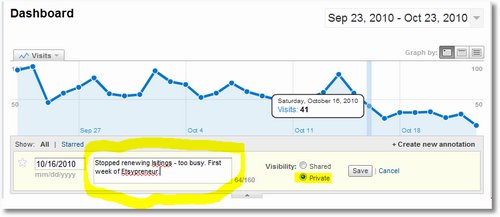 I clicked on the "private" option since I have no idea what the "shared" option would mean. I imagine that this has to do with Analytics accounts that have multiple users permitted to see the data.
Using this method, you'll be able to build a record over time of what actions have what results in your overall traffic.
Seeing Multiple Traffic Sources At Once
You can create more lines on the graph to see more traffic sources. The default line is "all traffic" but what if you want to know how many people come directly to your site, or how much traffic you're getting from search engines.
Using the drop-down menu above the date where it says "advanced segments" you can do this.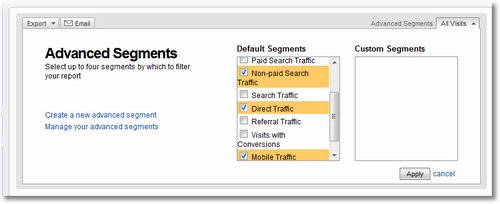 Selecting these results in this:
Obviously, this information can open-up all sorts of insight into how much traffic is coming from where, which traffic is impacted by various actions, etc.
More Analytics help to come! It's a pretty big subject and there is lots to cover, but the information you can gain from using Google Analytics can be invaluable to your success online.
Be sure not to miss the next post by signing up to get EverythingEtsy.com by email. There are also dozens more posts that are meant to help you with your Etsy business in our "Running Your Etsy Business" Category.