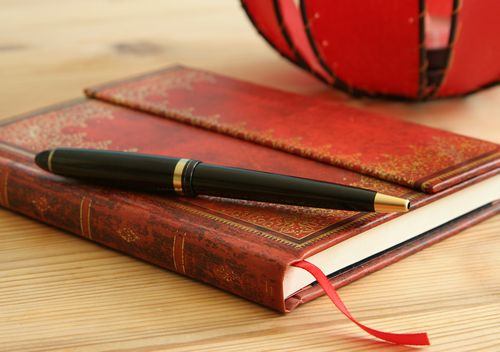 You're just one person, right? Most of us are, though we may feel like more than one sometimes! As one person, the challenges of marketing our Etsy business can seem overwhelming sometimes.
At first it can be hard. Sometimes it seems like nobody is noticing anything you're doing at all. It can feel like a waste of time. But, with persistence and time, that changes. By using the tools of the internet to forge new relationships and share your message, you will build online influence, often called "reach".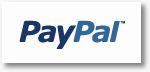 With reach, your sales will start to increase. Your efforts will be noticed. Your PayPal balance will start to grow!
The first thing you need to do is simple: be where your potential customers might be. The most obvious first steps are to start a blog, get a Facebook page, and open a twitter account. You've probably already done some or all of these things.
So now you need to get people to those places. You want customers to find your blog, and to be able to share your twitter account with their contacts. If you were seeing your customer in-person, you might hand them a business card. But you probably won't be seeing them in person.
Here is a simple idea that can help you extend your reach by making sure that every person you communicate with on Etsy knows where to find you.
Make a convo signature and use it regularly.
Etsy allows links to any URL in a convo. (unlike your shop page, which can only link internally to Etsy) Use this potential to tell people about your various outlets online. Even use it to send them right back to your shop.
I'm guilty of not doing this, so I made one up today and I saved it for future use. it's very simple and I took a couple of pictures of the steps.
Step One:
Once you decide what you want to link to, just write them out something like what I've done here. The top part shows an Etsy Convo, the bottom is a file I saved in Notepad (Windows) in order to easily copy and paste the same thing over and over in the future. If you get lots of orders, having the convenience of copy/paste can really save some time.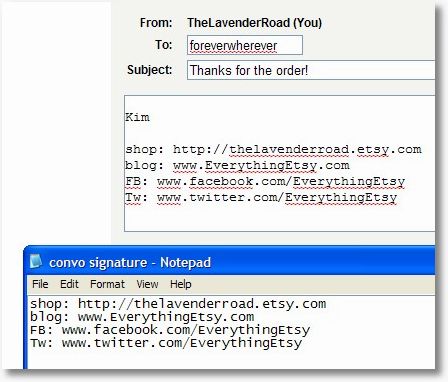 I included my Etsy shop, blog, Facebook, and Twitter. You can include whatever links you think are most important. One thing I wouldn't do (IMHO) is link to another place to buy the same things, such as my own website store, or especially another venue (as-in Etsy competition). I think you're much better served to remain loyal to Etsy. Your buyer already feels comfortable with Etsy. Let that work for you.
Step Two:
Include an image. Either an ad, or yourself.
If you don't need to include an image in your convo of something related to the order, use the option to include an image as a chance to enhance your brand. Either include a picture of yourself or a small banner ad.
Etsy will clip it to square, so keep that in mind. The image in mine was 200x200pixels to begin with and Etsy automatically made it smaller.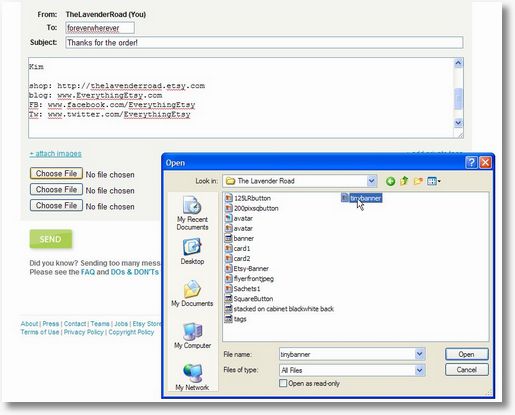 The End Result:
You can see that the end result is professional looking and it gives the recipient options to find me in the place they like best. Some people love Facebook, others Twitter, while some prefer to steer clear of social media altogether and they might just visit the shop again!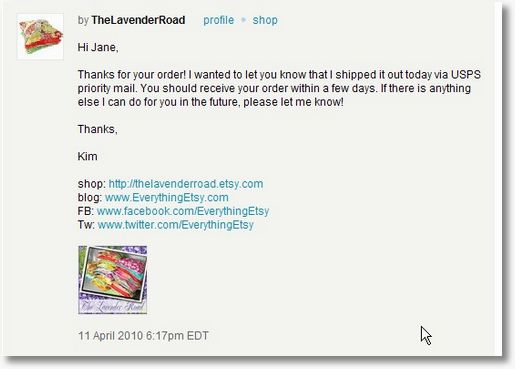 Another idea I had was to create a post or page on your blog that includes sale items or specials and include a link that says "April Specials:" with a link to the post or page. Everyone loves a sale and it's hard to pass-up a link that says "special" or "sale" without at least a look!
That's hard for you too, right?
—————————————–
So there you have it. A simple way to use something you're already doing to help just that little bit more. Do it consistently, and over-time, you're bound to see results!
Go Etsy!
~Kim