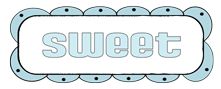 Just a quick note to announce that a new group of nine awesome Etsy shops has been added to the Sweet Gallery!
We've got another group coming soon! The plan was to do one group a week, but, well you know…
Check out the newest group of Sweet Etsy finds at the Sweet Gallery!