So, this blog is called Everything Etsy. I guess that means nobody will be surprised when I say, yet again, that I'm a serious, die-hard, tried-and-true, Etsy fan. I luuurvve Etsy.
As such a fan, I'm continually wanting to promote the virtues of Etsy for sellers and for buyers. And thus begins this post today…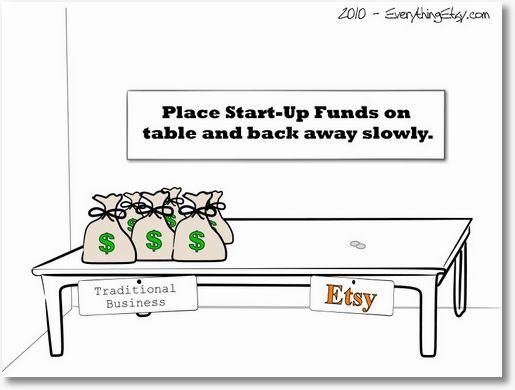 Etsy Business Start-Up Cost – Like Almost Zilch
Have you ever looked at what it costs most people to start a business? If you flip through Entrepreneur Magazine, you'll see ads for all sorts of franchises you can buy into if you desire to be your own boss.
We looked at buying a Mailboxes, Etc. (now UPS Store) back in the day. That would have been fun. Creative business, that packing and shipping. I can tell from my dread of that part of selling on Etsy that I wouldn't have lasted long.
But I digress… Entrepreneur Magazine and ads for franchises… back on track.
So these ads are plentiful and some list the start-up money required right in them, while others point to a website which usually gives a rough account of the money required. The low-end is $15,000 and the high-end is 100 times that much!
The Mailboxes, Etc. capital requirement was $40,000.00 and that was waaaayyy back in like 1993 or so. Now the minimum is $60,000.00
The list of expenses for most businesses is pretty daunting and might include:
Research and development costs
Business Plan Preparation
Product Development and Beginning Inventory
Advertising and Marketing Promotion Expenses
Cash
Cost of Financing
Remodeling and Decorating
Fixtures and Equipment
Hiring employees
Insurance Costs
Lease Payments
Licenses and Permits
Professional Fees
Signage costs
Supplies
Cost of Web Site creation
Unanticipated expenses
As Etsy Sellers, we might have some of this expense, but not anything like you might expect to start a brick-and-mortar store down on Main Street.
Another thing to note is that the key phrase in my previous sentence is might have. We don't have to incur these expenses. The absolute requirement for starting to sell something on Etsy is exactly two dimes. Twenty cents will get that first item listed and it is possible that it will sell. Highly unlikely, but possible.
Thinking Of Slow Time as Money Invested
Here's a thought. If you've got another income in the house or some savings to live on, why not consider your time invested in your Etsy shop as your start-up capital?
If you don't have $10,000.00 cash to invest, maybe you can invest $10,000.00 worth of your time instead. It's the same thing isn't it? It's still an investment in your future.
For everyone who complains about not selling on Etsy, my question is: "what have you invested?" You can't expect something from nothing. You have to invest. Etsy gives you the option of investing time rather than money by doing your own research, product development, and word-of-mouth marketing through blogs and social media (in the real world too!).
It Is Possible To Succeed
For every article or negative post I read about selling on Etsy, I see ten more shops that I'd never seen before who are quietly selling five, ten, or more items per day. Do the math. There are thousands of businesses making real money on Etsy.
Here's to you (and me) being amongst them very soon, and with almost zilch in start-up money!