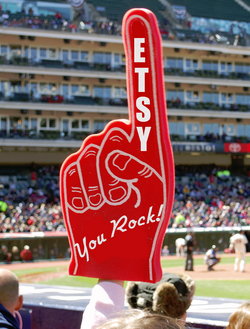 Is your existing contact list an untapped goldmine? Is your product something that you truly believe is helpful, inspiring, entertaining, or otherwise useful?
If your answers are "probably" and "yes" respectively then I've got something for you to think about. My thoughts were inspired by a post I read this morning at the blog of business, marketing, and relationship genius, Seth Godin: The circles (no more strangers).
The premise of the post is that we often spend far too much time and effort trying to convert total strangers into customers while we ignore, or even mistreat, our current loyal fans. I think this trap can easily ensnare an Etsy seller. In fact, I think I'm guilty myself!
Who Are Your True Fans?
It's very important to do your best to always know who your true fans are. If you're just starting out, it may be easy, but as you grow you'll probably need to keep a document or list of some type to help you keep track and not leave anyone out.
But for starters, the list of true fans probably includes people from at least some of these groups:
friends
family
current or past coworkers
past customers
past prospects (close, but no sale)
blog followers
Twitter, Facebook, or other social media friends
If you don't have one already, I encourage you to sit down and make a list of these people. It takes some time, but this is important! You can use a spreadsheet such as Miscrosoft Excel, or the free download from OpenOffice. This way you can keep track of email addresses, phone numbers, Etsy usernames, blog or website addresses, or whatever.
There are other contact management softwares available and I'd love to hear suggestions in the comments as to how you keep track of contacts… but even if you just use a sheet of paper, you need to know who these people are!
Okay, So Now What?
Once you know who it is that you include in that core list, you can start being creative with how to reach them. It's not hard to come-up with ideas if you ask yourself this: If the roles were reversed, what would make me jump from fan to fanatic?
What about a special handmade note?
Is there a way to send them a small sample of your newest product for free, just as a gift?
Do you have a blog or large Twitter following that you might be able to promote them on? (if you do this, make sure they know about it!)
Can you use anything that they offer? (buy from those that buy from you!)
A company my son bought some guitar gear from sent a little bit of candy in the package…he's now a fanatic. How easy was that?
You are crazy creative, if it were not so you wouldn't be here and you wouldn't be selling on Etsy. Use that creative spark to think of something unique that simply shows one small thing:
You care. You're human. You are a nice person.
Maybe that's three things… or is it really one? Anyway, moving on…
Do You Believe In Your Product?
Don't forget the second question at the top of this post! The answer to that is of absolute importance in this whole equation.
If you believe that your product is a good thing, at a good value, and is a true help to the person who purchases it, then you should not at all be embarrassed to be bringing it to anyone's attention. If they buy, they will feel great about it. If they don't, they'll be able to tell that you are sincerely trying to be helpful.
Be bold about your Etsy business. It's a real business and what you sell is good for the person who buys it!
I, for one, am going to take a close look at that list and see about prospecting for some gold! I would love to hear your thoughts and tips on how to take great care of your true fans and turn them into fanatics!
Here's another Etsy Marketing Idea (Using Convo Signatures)