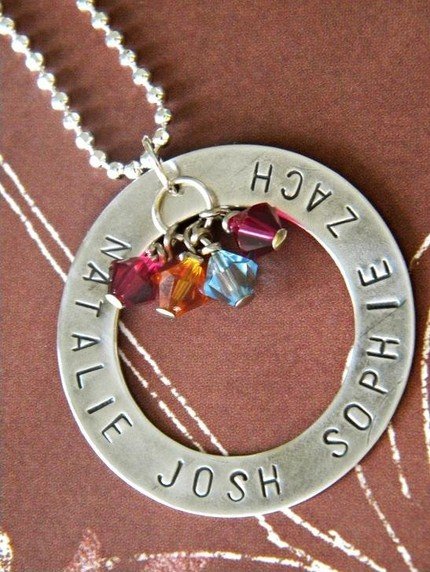 Welcome to the party where you get to show off your latest and greatest project!
Bring your home decor project, jewelry, crafts, sewing projects, tutorials, tie dye t-shirts and anything else you've created! It's so much fun to see your posts, and the response has been awesome!
The beautiful sterling silver hand stamped necklace above can be customized with the names of your children or grandchildren…what could be better than that?
Kayla has a shop full of hand stamped jewelry, hair accessories, and home decor. It's a great place to find your next birthday or anniversary gift!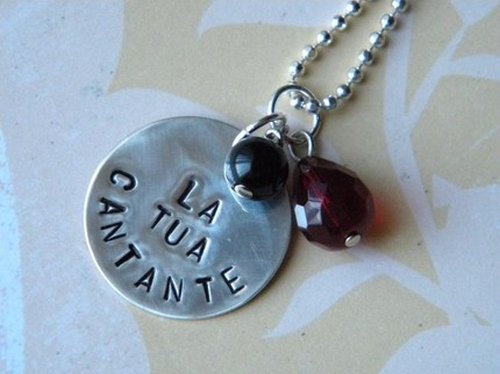 This design was inspired by Twilight…I know there are some fans of that series out there!
My Belle Boutique will be giving away a $25 gift certificate to one lucky Everything Etsy reader this week! You can pick something just right for you, or someone you love!

Here's How It Works
When you link to the McLinky thing below, you must link to a blog post that shows off anything that you made! As long as it fits the title "I Made It!"
A Couple Of Important Points
Link directly to your post, not your Etsy shop or your blog home page
Make sure you mention I Made It! at Everything Etsy and link back to this post
You can choose to use the button below which is already linked right to this post
Don't miss out on what everyone else made! Just follow the links!
We made a more detailed instruction sheet right here.

Ways To Win The Giveaway
If you don't have a post to link this week, you can still enter the giveaway!
Join the blog party with your post – 1 entry
Leave a sweet comment of some sort – 1 entry
Visit My Belle Boutique and tell us your favorite item. – 1 entry
Tweet this, post it on facebook, subscribe to our blog or new facebook fan page – 1 entry each
Subscribe to our blog or new facebook page – 1 entry each
Just leave a separate comment for each form of entry!
Thanks for spreading the word about the party, and have fun hoping around to all the other blogs linked this week!
~Kim