Welcome to this week's I Made It blog party!
I can't wait to see all the beautiful things you've created this week! You're welcome to link up a post about anything you made…how simple is that?
Last week we had links to some awesome tutorials, home decor projects, handmade cards and even quilts.
This Week's I Made It Giveaway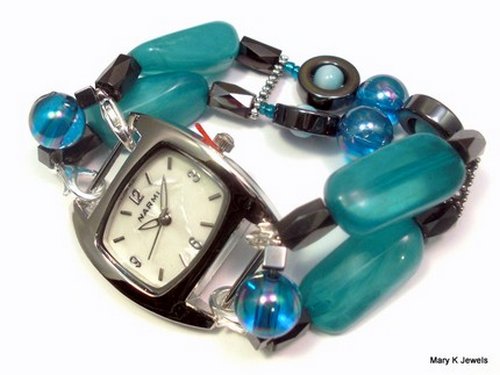 Mary K Jewels designs handcrafted watch bands like this stunning turqoise one above. All her watch bands are interchangable, so you can change the band to fit you mood…or your outfit.
Here are a few more of her great creations!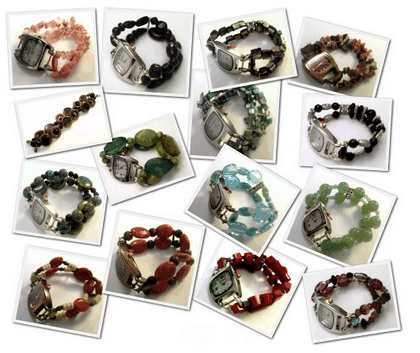 Need something for a special occassion or your favorite outfit? Mary does custom orders for just what you need!
For this week's I Made It Giveaway, one lucky winner will get to choose one watch band and one face. You can mix-and-match for the perfect combo!
You can get one entry into the giveaway by correctly linking to the McLinky, and one just for a comment! The giveaway ends February 27th!
And the winner is: Angie at Surviving Motherhood, congratulations Angie!
Now For The Blog Party
How does it work?
At the end of this post, there is a place to enter your info. A box for your name where you can add a word or two about what you made, such as "Kim @ Everything Etsy – Sachets" (we'll adjust the character limit as we move forward, right now it's 50 characters). And another box for the address to your post.
Make sure you use the link directly to your post, not just the home page. You can get that by clicking on your post title and a page will open with just that post on it. The address in your browser to that page is the right one.
Important!
It's important that you help promote all of the other people in the party by including a link back to this post at Everything Etsy in your post. This way your readers find these links, and the other participant's readers find you! You can use the button if you like. It already has the permalink to this particular post. (but a text link is fine too)
If you need help putting the links in your post, look at the comments from last week. Tim wrote a short instructional in the comments.

Without further ado, here is McLinky: