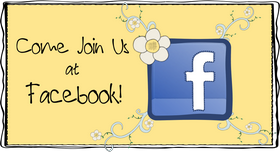 We're having so much fun with the new Facebook Page! Have you seen it yet?
We've found such a great community of Etsy lovin', creative thinkin', makers of cool stuff, and just generally awesome folks. We hardly feel qualified to be there!
(For anyone wondering, sometimes I say "we" because I need Tim's help with buttons and stuff, so I don't want to leave him in the cold!)
A Great Place To Share and Show Off
A couple of the features we really think are great about the Facebook Page are the "Fan Photo's" album and the Discussions Tab. In the Fan Photos, you can upload pictures of your awesome creations right there, say a few words about what it is and write the address to your Etsy shop! It's going to be great for business! Here's what it looks like: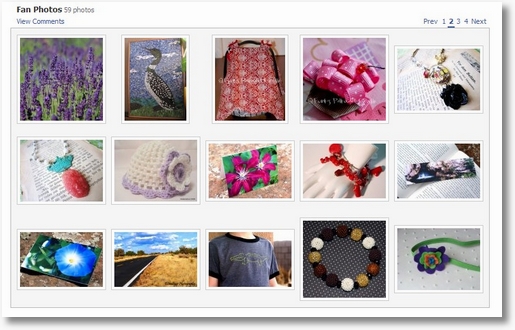 As of the time of this post there are already 59 great images up there! Show off your best work. (we have a great post with a video on good Etsy photography)
To post a picture, just write in the post box on our Wall and add a picture. It will go to the "Fan Pictures" album automatically.
A Great Place to Talk
We're also really excited about the discussions tab! We started a little introduction discussion, but you're free to start a thread of your own! It's all people who love creativity, Indie, Handmade, and Etsy, so you're among friends! A great place to ask questions, get help, and just talk about your experience! Please come and join in.
Just a Fun Place To Visit On Facebook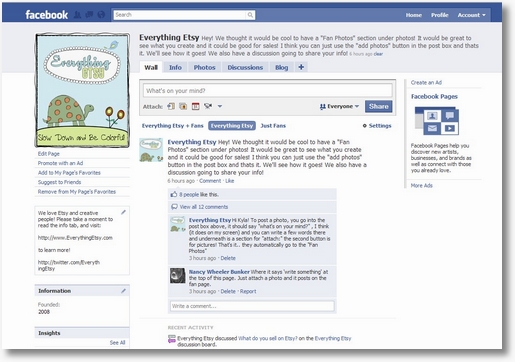 You know what? I didn't know this. Posts from Fan Pages don't always show-up in your news feed. If anyone knows more about this, we're interested. So I guess we'll just have to stay out of the way and let all you creative girls (and a few guys) make the Everything Etsy Fan Page so fun that everyone remembers to come see what's new.
I hope you head over and join us today! (over 900 fans already!)
Are you a fan? What do you think? Any suggestions or ideas?