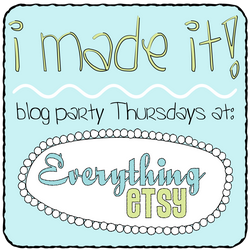 Welcome to the surprise and completely unplanned first week of I Made It! – a new blog party we'll be hosting here every week at Everything Etsy!
I've been thinking about doing this forever, but never got around to it. So when the chance came up this morning to get my in-house button maker and tech guy to make me a button and set up a McLinky, I took it!
Here's the idea:
Every week, we'll have a blog party with a "linky thing" for you to show-off your posts featuring anything creative that you want to tell the world about!
We're all about the movement of handmade and we want to do everything we possibly can to help spread the creative fire. We really hope that this helps you do that!
There are no categories, except the one clear one… YOU made it!
How does it work?
At the end of this post, there is a place to enter your info. A box for your name where you can add a word or two about what you made, such as "Kim @ Everything Etsy – Sachets" (we'll adjust the character limit as we move forward, right now it's 50 characters). And another box for the address to your post.
Make sure you use the link directly to your post, not just the home page. You can get that by clicking on your post title and a page will open with just that post on it. The address in your browser to that page is the right one.
Important!
It's important that you help promote all of the other people in the party by including a link back to this post at Everything Etsy in your post. This way your readers find these links, and the other participant's readers find you! You can use the button if you like. It already has the permalink to this particular post. (but a text link is fine too)

A Lavender Road Giveaway!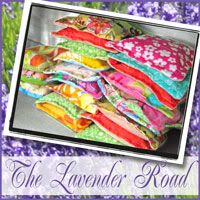 To celebrate the start of this new blog party, I'm giving away a $30.00 gift certificate to The Lavender Road! My shop is full of colorful and sweet smelling lavender sachets, and of-course: I made it!
We'll leave this open for new entries until Sunday night and draw a winner from the participants on Monday. You must properly link back to this post to win.
Oh! One more thing… since we gave no warning at all, you don't have to link to brand-new posts… you can use an older post if you want to show it off! Just remember to go back in and add a link to the party.
(since you can't link out from your Etsy shop, only blog posts can be linked to, not shops…sorry!)
**The winner of the gift certificate to The Lavender Road is
Megity's Handmade
! Yay!
Here we go: