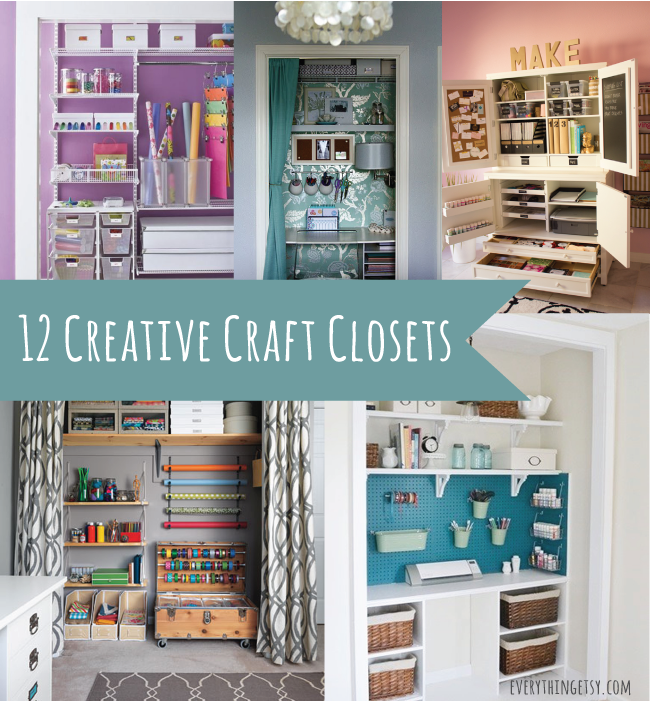 Have lots of crafty supplies and limited space?? Create a dreamy craft closet that's functional and fabulous!
These are some seriously creative spaces and I'm sure you can find an idea or two to use in your own workspace. Craft closets are perfect for your guest room…just close it up when company comes and you're all set. Or, if you really like them you can share your crafty secret space.
Here's a bit of craft closet inspiration for you…
Craft Closet – Real Simple
The Ultimate Craft Closet – Brit
Bedroom Craft Closet – 6th Street Design School
Mobile Closet Storage – Michaels
Craft Closet Makeover – Beneath my Heart
Craft Conner – Our Thrifty Ideas
Craft Space – Rambling of other such Nonsense
Office and Craft Closet – Borealis Blog
Sewing and Craft Closet – DIY by Design
Scrapbook Closet – Better Homes and Gardens
Chalkboard Craft Closet – Design Improvised
Art and Craft Closet – The Container Store
Can't get enought?? You'll love this post we did about an inspiring craft closet and this one..Small Craft Closets & Workspaces.
Craft closets can be created in a weekend and make you happy, happy, happy!
Which one is your favorite?
If you love organization ideas… you should see this beautiful list of DIY ideas: