Working in a closet might not be all bad if it looks like this!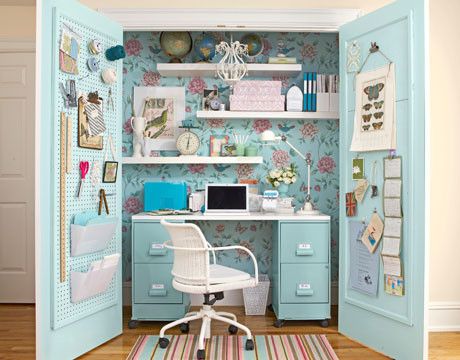 What an inspiring example of how to get creative and make a small space useful and way fun!
This is one of those pictures I could stare at for awhile and still find new details. Here are a few of the things I noticed that really make this craft closet special:
Pegboard on the back of the door is a brilliant storage idea because it takes-up zero useful space when not in-use, yet is perfectly accessible and pretty when needed!
Opposite the pegboard, is a nice big door panel for posting calendars, notes, and little tid-bits of inspiring paraphernalia.
That wallpaper in the back is beautiful! I wouldn't otherwise like such a large pattern, but the way it is broken up with the desk and shelves just makes it perfect!
I'm totally down with the make-your-own-desk-from-a-pair-of-file-cabinets plan.
Having the whole space a color all it's own makes it look like a completely different room. And the color is very pretty! I think we have that shade here on the blog!
And when you're done being creative and productive, just close the doors and turn your attention to the next part of the day. I'm sure I would have a little skip in my step from just being in such a great little space!
What about you? What kind of little things do you look for in an inspiring work area?
~Kim
……………………………………………………….
We have more Craft Room Inspiration here.
{We'd love to see pictures of your space! You can post photos of your work or your work area on our Facebook Page. Just write on our wall and attach a photo!}
If you love organization ideas… you should see this beautiful list of DIY ideas: