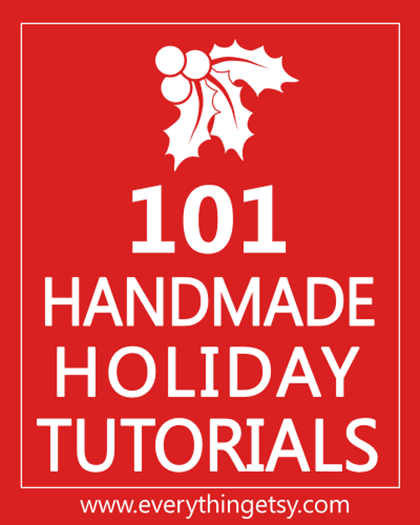 Decorating for Christmas is always a blast! I've gathered a few…well, maybe more than a few holiday tutorials for you to create a festive handmade holiday.
I love handmade decorations! There seems to always be some new and creative idea to add to my list each year. You'll find something for everyone in this collection of tutorials…from book page trees to subway art pillows.
That should seriously keep you busy for awhile! 🙂 Hey, if you use all of these I'm sure you could charge admission to your home this year. It might even help to pay for your craft supply bill…ha!
If you are looking for beautiful holiday ornament tutorials you'll love this list of 101 Handmade Ornaments!!
Other posts you might enjoy:
I really appreciate all your tweets, stumbles, Facebook likes and pins on my previous 101 posts…you rock!!!
If you love creative links, please subscribe to Everything Etsy! New subscribers make my day!
I usually decorate the day after Thanksgiving. How about you? Do you wait a bit or do you try and stretch out the holidays by decorating early?
~Kim