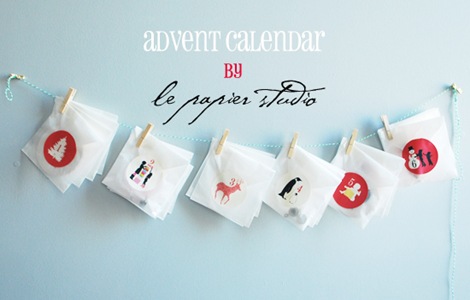 With the holidays right around the corner, we've started thinking up some lovely DIY projects you and your family can do together.
I am happy to share with you one of my favorites, the Silhouette Advent Calendar.
This project is super easy and quick and it requires very few materials.
Materials:
24 glassine bags (or any envelopes you may have at hand – try colorful envelopes for a festive feel)
6 clothespins
1 yard of baker's twine
24 stickers (you can create your own illustrations for this projects or download our stickers here)
Instructions:
Start by printing out the stickers. You will need this template.
Next start assembling the glassine bags. Pick out 24 creative gifts – they can vary from paper to small objects to candy – and depending on the recipient, even jewelry. Stuff the bags with your gifts.
Follow the 3 easy steps shown on this picture.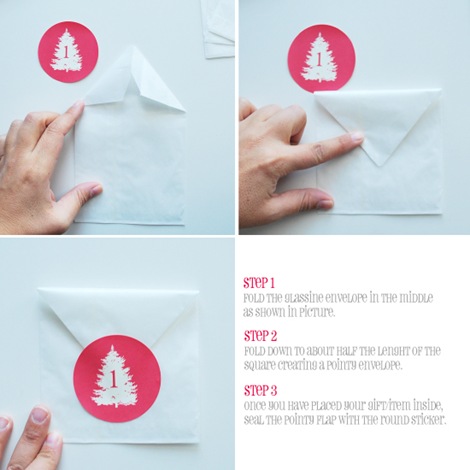 Once you have all 24 bags made, start stacking them 4 by 4 – this way only a row of 6 bags show at first. Refer to this picture.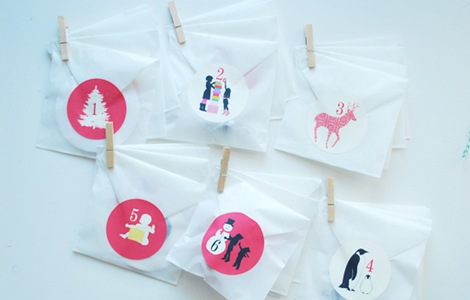 Stack numbers 1,7,13,19 together and so forth. The idea behind this technique is that you can take one bag out revealing the next one and so forth. Plus it takes less room:)
Use the clothespins to hold the bags together. Next attach them all the the baker's twine string and voila, you've made your advent calendar. Wasn't that easy?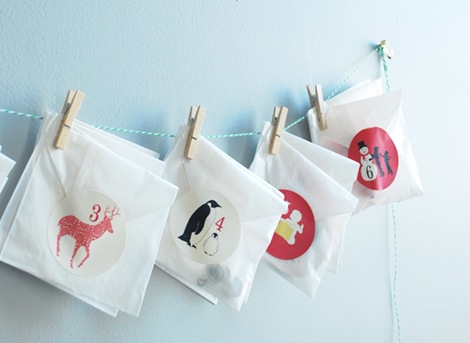 If you would like to purchase the kit which includes everything shown on the pictures you can do so here.
Best,
Vana Chupp

Vana has a beautiful blog and website full of creative silhouettes. I'm a fan!
You don't want to miss the Le Papier Studio 2011 Holiday Line!!! I can't even tell you how cute it all is, so go see for yourself! There's even something for the pet lovers on you list. Here's the links to keep up with Vana's latest projects…
Website | Blog | Twitter | Facebook l Vana's Book
What a sweet tutorial and a great holiday tradition! Thanks for the wonderful tutorial, Vana!

Do you all love silhouettes as much as I do???

~Kim