This giveaway has closed – winner announced here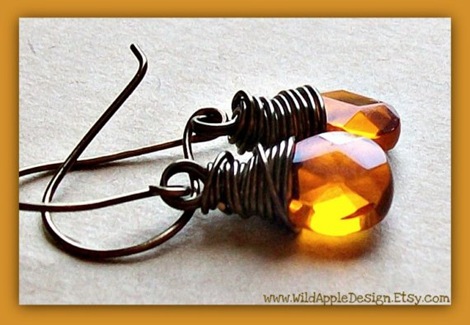 Jenn at Wild Apple Design is a perfect example of why we love Etsy! She is so creative and her work is just as intriguing as it is beautiful! Every piece in her shop looks as if it must have a wonderfully interesting story behind it!
She calls her work "handmade treasures" and that's a perfect description. Her shop includes glass tile pendant necklaces and bracelets (she calls these Sassy Glass) and some of the most creative uses of bottle caps I've ever seen anywhere!
That's right, bottle caps. As-in orange soda, root beer, and coke!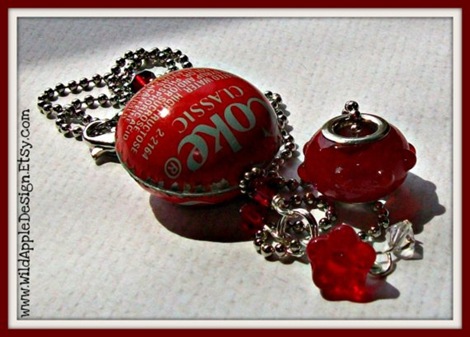 Jenn is giving away this beautiful Coke Bottle Cap Bead Necklace. You won't believe just how neat this is! It totally brought me back to the eighties when I wore Coca-Cola brand shirts to High School (or was that junior high?… whatever). I would have loved to have one of these then, and I'm thrilled to have one now!
So will you be, if you a) win this giveaway, or b) run over to Wild Apple Design on Etsy right now and buy one!
There are [slider title="up to 10 chances to win!"]
All giveaways have the same ways to enter (up to 10 per giveaway!):
Visit the Sponsor's site and leave a comment telling us your favorite item on their site
Follow the Sponsor on Facebook (if applicable, see link in post)
Follow the Sponsor on Twitter (if applicable, see link in post)
Follow Everything Etsy on Twitter
Like Everything Etsy on Facebook
Subscribe to Everything Etsy
Tweet about the particular giveaway
Post to your Facebook about the giveaway
Post to your blog about the giveaway
Put the "Giveaway Week" button on your blog
Winners will be selected by random number generator on Monday and posted here.
[/slider]
Links you might need:
http://www.WildAppleDesign.Etsy.com
Blog: http://wildappledesign.blogspot.com/
Facebook: http://www.facebook.com/WildAppleDesign
Twitter: http://twitter.com/WildAppleDesign
Good Luck!
All Giveaway Week Posts
Entries Open All Week Long!
~Kim