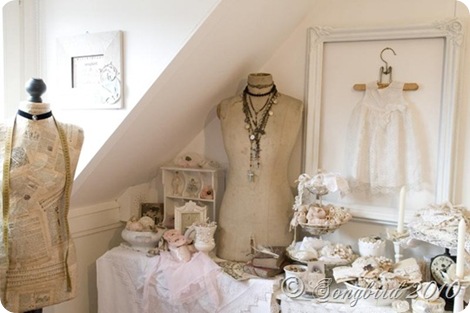 Wouldn't you enjoy working spending some time in this beautiful craft room?
It belongs to my sweet blogger friend, Marianne from Songbird! She lives in the Netherlands and decorates each room of her house just as pretty as this fairytale room.
She has the whole attic to spread out all her gathered treasures. Here's a quick peek…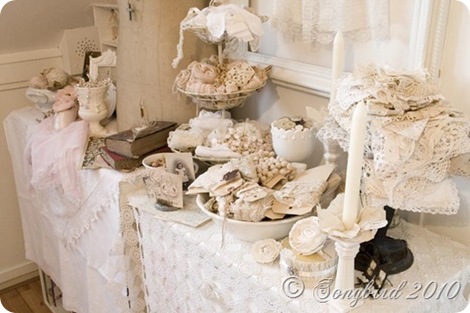 This photo reminds me of an stunning project of Marianne's that included plaster and doilies . She created beautiful bowls and made it look so simple. I planned on trying it until I had a super-messy-bad experience with plaster on another project and threw it all out!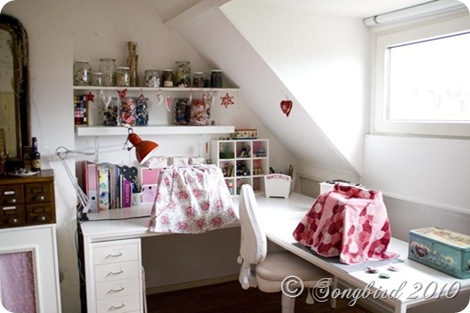 The natural light is beautiful and it looks like the perfect spot for sewing.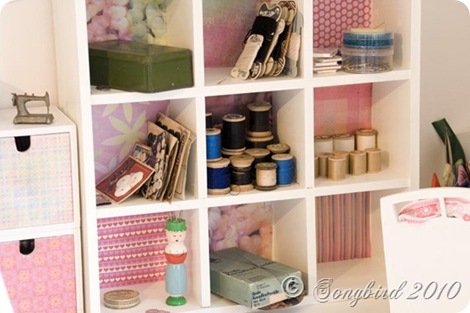 She has lots and lots of cute treasures arranged with her usual charming style.
You won't want to miss the Grand Tour of this beautiful craft room, so stop by Songbird and take a glimpse into this dreamy space. And be on the lookout for the opening of her Etsy shop.
WARNING: Once you click over to her blog you could be lost over there for hours! I am not responsible for you not getting things done or forgetting to make dinner…just sayin'!
Anyone want to fly to the Netherlands with me to visit?
~Kim