I don't know about you, but I am NOT a big fan of the new location of the Etsy Shop Announcement box. It really messed with my sense of symmetry! I'm going to show you how you can work with that pretty grey box and integrate it into your banner design!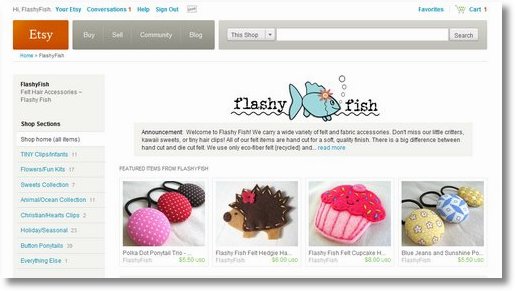 You can see the problem in the "before" picture above. By putting the announcement box directly underneath the shop banner with no white margin between them, Etsy has effectively reduced the height of usable space in your banner. The idea must be to get as much product as possible "above the fold".
But as you can see, my artwork looks poorly centered with so much white space above, and none below. So that's the first thing I need to fix.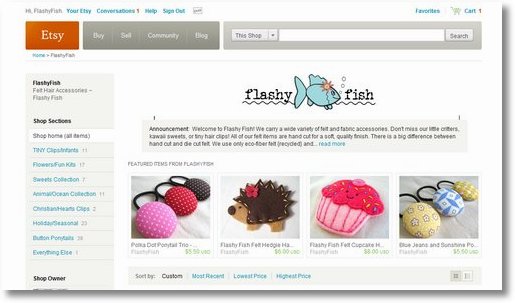 In the "in-progress" picture above, you can see that I've raised my artwork to the very top of my banner to create white space between the fish and the grey box. I even had to lose one bubble! The little lines you see are me trying to figure out exactly where the box is.
After a little trial and error, I found that the Shop Announcement Box is inset from the ends of the banner by about 33 pixels on each end.
Once I figured out where the ends of the box were, I could integrate the box into my design: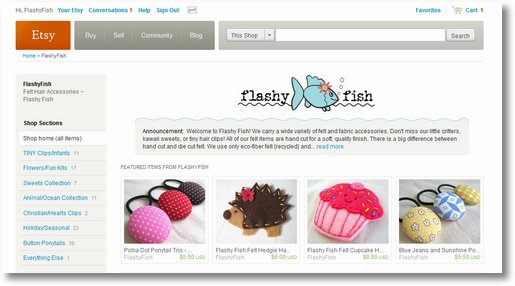 Not all banner designs will make this easy work. Some are conducive to working with the box, while some absolutely are not. In this case, I think we were able to make it work pretty well. Much better than what we started with, in my humble opinion!
You can see it live on Etsy at Flashy Fish!
This is the banner itself… you can see that I just ran the grey color right to the bottom edge. The color of the Etsy Shop Announcement box is #F5F5F1

We've got a whole selection of free banners for your Etsy Shop on our free banners page! Check back soon for some new additions that work with the shop announcement box! We'll be adding more this coming week.
Questions about Etsy Banners? Feel free to ask right in the comments below. I'll answer your questions in the comments. Just don't forget to come back and check!