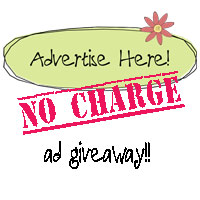 Welcome to this week's I Made It Blog Party!
We've been seeing some incredible creative stuff over the last few weeks and we're so glad to have you participate!
This week, we're giving away ad space on the front page here at Everything Etsy! We've just started a promotional offer of 3-Months of a 100×100 ad for only $30.00 and we wanted to let you know. These ads are for Etsy Shops only! One lucky winner will get three months and custom ad design totally for free.
You can see the special promotional area in the right sidebar, just below our 125×125 ad spots.
You can enter by any or all of the following methods:
Subscribe to EverythingEtsy
Tweet or FB about this giveaway
Just leaving a comment to say hi!
Link-up to this week's blog party!

Be sure to leave a comment for each form of entry.

Now let's get going with the blog party!

A Couple Of Important Points

Link directly to your post, not your Etsy shop or your blog home page.
Make sure you mention I Made It! at Everything Etsy and link back to this post.
You can choose to use the button below which is already linked right to this post.
Don't miss out on what everyone else made! Just follow the links!
We made a more detailed instruction sheet right here.
We don't want to feel bad and delete your post, but we can't contact everyone to explain the instructions. Please read the instructions if you're not sure how to join a blog party. We had to delete several last week, and it's not the easiest thing to do.




Now let's see what everyone has been working on this week! You are all so inspiring with your creative projects!

Thanks for making this party so much fun!

~Kim

This giveaway is closed. Thanks for the great response! The winner is Traci! Congratulations!