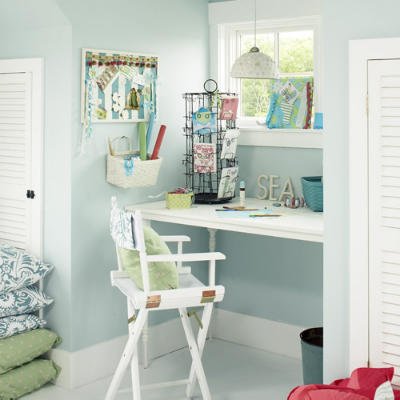 Aren't craft room photos inspiring? I can always use creative organization ideas to help me control my crafting chaos and make my supplies look a little prettier at the same time.
Sometimes the rooms are so spacious and maybe even bigger than you would need in the first place. If you don't have a room of your own, why not have a craft desk?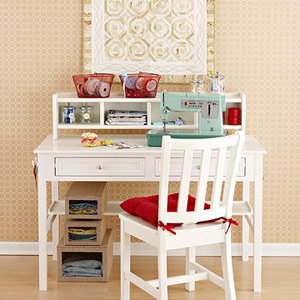 This is a cute little desk, and I like how they added space for supplies with the cubby shelf on top. You could even attach a shelf to the wall for fabric. You gotta have a spot for all your fabric, right?
I have a desk something like this one that I found at Goodwill for $15! I'll be sure to show you some photos when I'm done, but let's just say mine is a bit more colorful.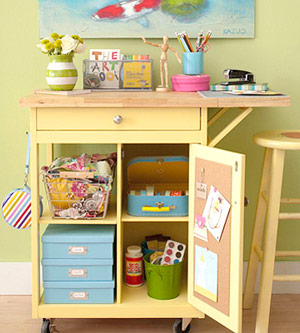 Take an old beverage cart and give it a fresh new look with some paint, baskets, and a little cork board! Add a stool and you've got yourself a rolling craft station. How fun!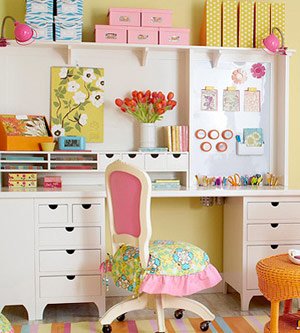 A tall hutch above this narrow desk provides floor-to-ceiling craft supply storage! Isn't it pretty? It keeps all your supplies within your reach and looking good!
So, don't waste all that space above your desk…go up!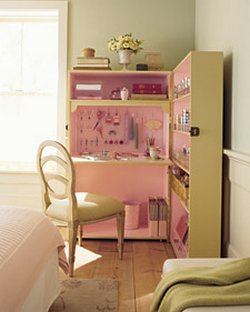 This is a fabulous idea for the corner of a guest bedroom! A nice little corner craft area with a secret! Do you know what it is?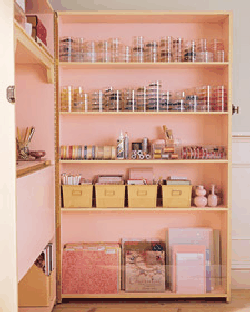 There's lots of shelf space with plenty of room for supplies all gathered in jars and bins so nice.
But, there's something else…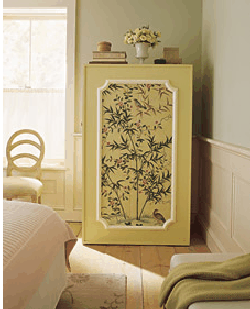 You can close it up to look like this!
It's really two bookcases that close up to hide all your supplies and look beautiful for your guests! You can find more photos and information on this at MarthaStewart.com.
For more craft studio inspiration, check out our Art Studio Inspiration section!
Which idea is your favorite? What's your craft area like? I'd love to hear about it!
~Kim