Hi! I'm Tim… Kim's husband. I'm the one who designs the free banners and makes sure the blog doesn't break down. I also write most of the posts in the "Running Your Etsy Business" Category.
I've got a post for you today that surprises me a little bit. It surprises me because I've usually been one to feel that "free" business cards weren't all that great, especially when they have any sort of advertising for the printer on them. Something about it just seemed unprofessional to me. But this offer changed my mind, so I figured I'd show it to you.
Free Etsy Business Cards From Moo
The key word here, for me, is Etsy. I would have blown right by this offer if not for one really cool feature that really got my attention.
You can upload your pictures straight out of your Etsy shop and they'll include them on the cards.
That's cool. That seemed like something to try out.
The process was super-easy and I took a few screen shots along the way.
1. Start with this link (will open in a new window).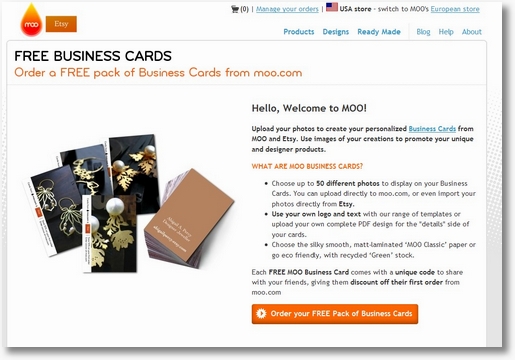 Click the big orange button to get rolling.
2. Import from Etsy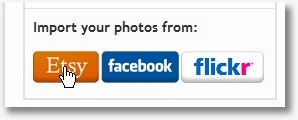 3. Enter your shop name

4. Pick your favorite pictures (up to 50!)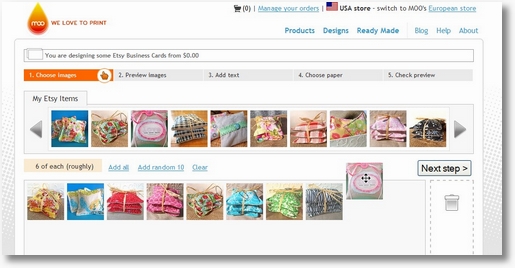 5. See how awesome they'll look!
(and see the ad's you can buy your way out of)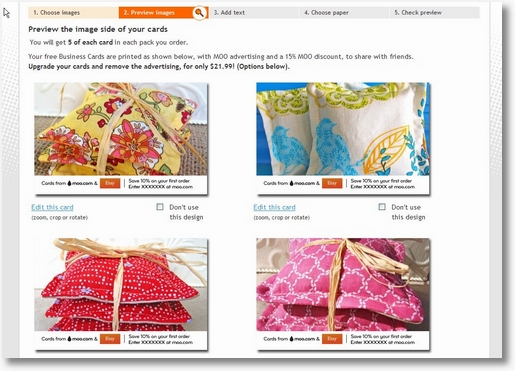 6. Design the other side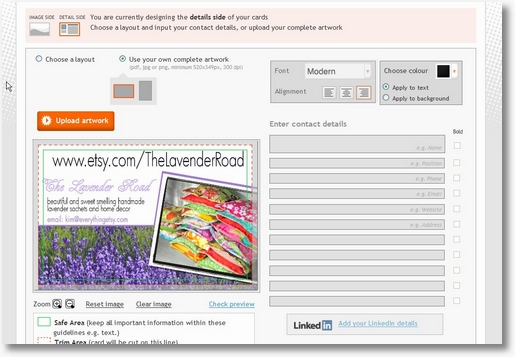 You can just type in text, or throw together your own image for the other side. I quickly made an image in Photoshop, hoping my order process wouldn't time out. If that's not an easy option for you, you can just type in your information and select your fonts and colors. You've got great pictures on one side already, so simple on the other might even be better!
7. Pay $6.00 for standard shipping. Done.

————————–
It was really so simple I thought twice about even including the screen-shots because it feels a little on the 'basic' side. But seeing the process might make you feel like it won't take long and won't be a big problem. I hope so, because having a few business cards with pictures of your work is sure to both give you a boost of confidence and improve your sales.
A couple of resources that might help you:
How To Photograph Your Work For Sale On Etsy
How To Personalize Your Etsy Banner (you can use the Pixlr website to create an image)
In case you're wondering, we have no affiliation with Moo and don't get anything on this. We just thought it would be good for your business.
I guess I'd be remiss if I didn't say this: If you see anything in those pictures you just have to have, you can find it at Kim's shop, The Lavender Road! 🙂
Have fun!