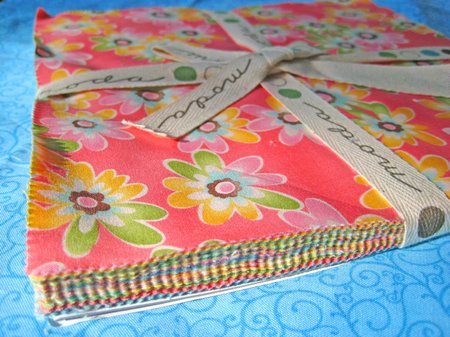 Awhile back I wrote a post about a Moda Layer Cake that I purchased without really having plans for it. It was just too pretty to pass up!
I wanted to make a quilt, but I was very nervous about starting a quilt, messing it up, and not being able to showcase this beautiful fabric all together. Simply using a little for this and that wasn't what I had in mind.
I scoured numerous quilt blogs and found one that I could handle. I'm not the craftiest sewer on earth, so I need to keep it simple. Cicada Dreams has a wonderful tutorial that made it possible for me to complete this quilt.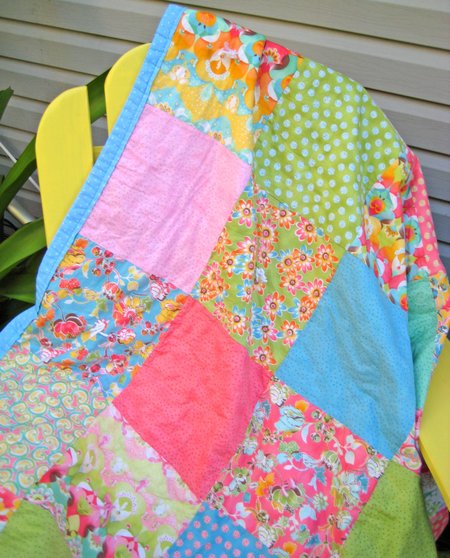 That's it! A tie quilt was the way to go for my first quilt! It gets used often and I've never ironed it. That's why it's a little wrinkled…but loved. That's the way we like things around here.
Here's a picture tutorial of the process…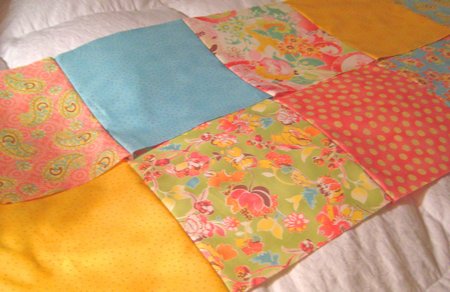 I figured out the pattern and started sewing strips together. You will have to see Cicada Dreams for a "real tutorial" because I'm not qualified for teaching yet! 🙂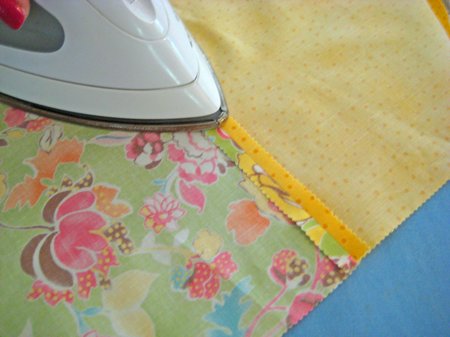 I ironed. I normally hate ironing, but it's much nicer when you're working on a project with beautiful material. The colors make me happy!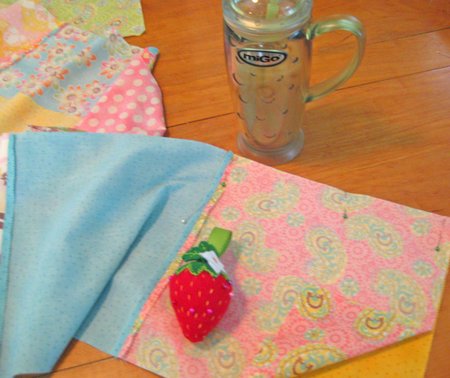 I pinned the strips together and started sewing them together one at a time. I got to use my little strawberry pincushion that I made a couple months ago. It helped me to at least look like I knew what I was doing.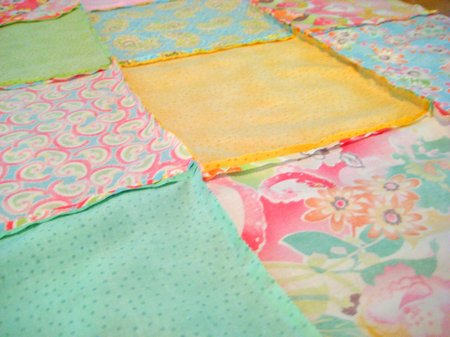 I felt like I was making progress quickly and I was having fun. Then it was time for another trip to the store for the backing and more stuff. That really slows things down! Don't you wish they delivered???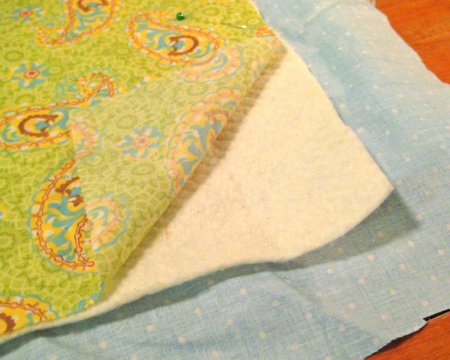 This is a photo of my not-so-evenly cut layers. I was starting to get a little tired, but I really wanted to finish! As you can see, I am not a perfectionist!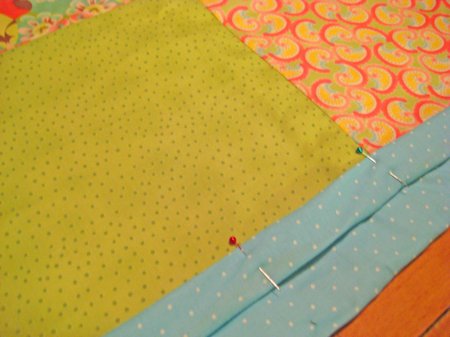 It finished up much easier than I thought it would. I didn't happen to take any photos of it on my floor with the spray adhesive causing the layers to stick together wrong. That would be funny now, but at the time I was a little stressed. I suggest spraying adhesive LIGHTLY!
Once I finished all my sewing, I sat and watched a movie with everyone while I tied the knots with yarn in every other square. I can't imagine what it's like to hand quilt! The amount of work involved in that is amazing, and I have trouble just working on the same project for more than a few days.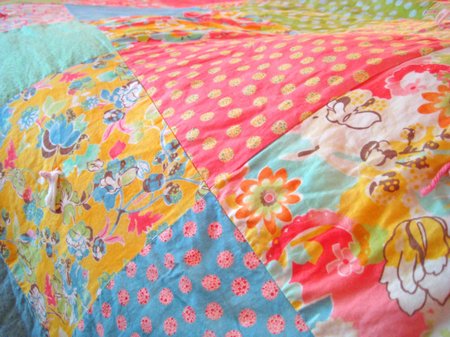 Thanks for everyone's comments on my earlier post asking what I should do with this fabric. Your information was so helpful! If you have any links to quilts you've made, just leave them in the comments today so I can come see!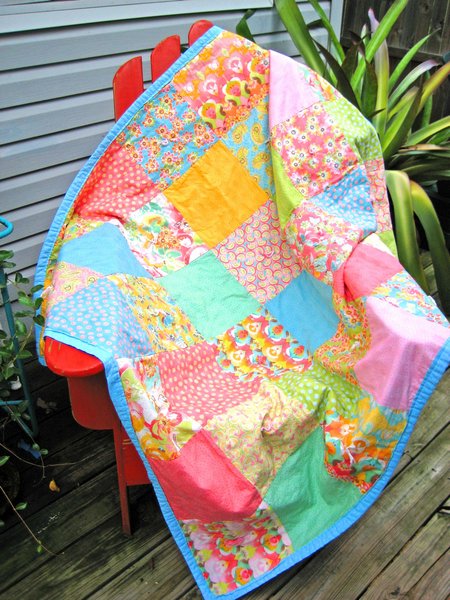 Here it is again! It fits in perfectly in our colorful house, and I'm sure it will be around forever! There's such a sense of accomplishment when you're finished. I can see why people like quilting so much!
I'm planning on making one for our bed…King size. It'll be in all cream colored fabrics. Wish me luck!