Did you know you can help your favorite charity through your sales on Etsy? I ran across this great Etsy team and their charity of the month…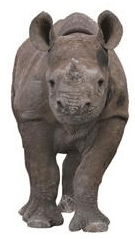 This month's charity for EFA Artist Helping Animals is Rhino International.
What is Rhino International?
Save the Rhino International works to conserve viable populations of critically endangered rhinos in Africa and Asia. By funding field projects and through education, their goal is to deliver material, long-lasting and widespread benefits to rhinos and other endangered species, ecosystems and to the people living in these areas.

What is EFA Artists Helping Animals?
EFA Artists Helping Animals is a group of more than 500 independent artists, independent crafts people, independent vintage suppliers, and independent art and craft suppliers that combine their efforts to provide charitable relief to animals. EFA can be found as a Team on Etsy.com, an online marketplace for buying and selling handmade items. All members of EFA are also Etsy members. Check out their website to find out how easy it is to donate.
Joining a team on Etsy is a fun way to meet other Etsians, and help out through your art! Check out the Etsy Team page to find a team just right for you.