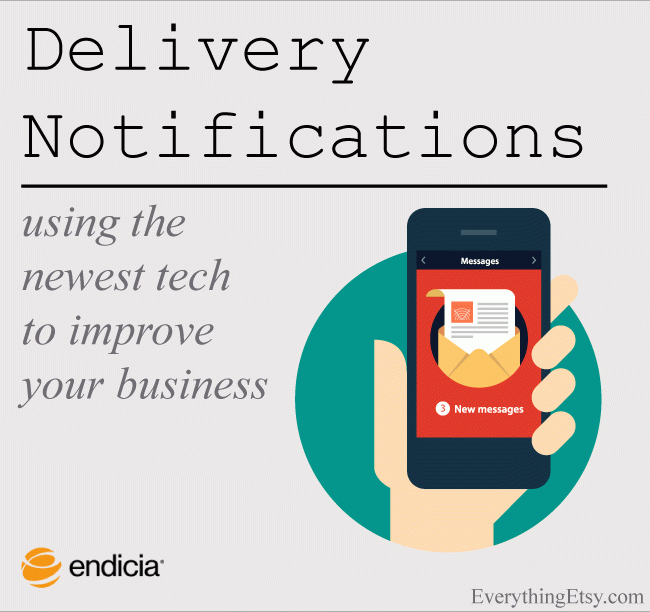 How about an email each day that tells you the status of your outgoing shipments?
Our favorite provider of shipping labels and related services just upped their game yet again. Endicia, which has been rolling out improvements at a brisk pace for a couple of years now, has just released a new shipping notification service that you may find very useful for your Etsy business.
With Endicia's Delivery Notification Service you can get an email notification updating you as to the status of your packages shipped via USPS. We've just signed up for the service so we'll let you know more after we've had some time to try it out, but here's the gist:
Daily Updates by Email — Each day, you'll get an email with the status of the previous day's events.
Delivered, Failed, or Exception — There are three types of events you can choose to be notified of; delivered, failed delivery, or exception. (one example of an exception is when you ship to a business and the business is closed at time of attempted delivery)
You can choose which notifications you want — The charge is $2.00 per month per notification type (no matter how many packages you ship), or all three types for $5.00 per month.
The emails will include a CSV file that you can import into a spreadsheet or other customer management software.
If you're looking for ways to improve customer interaction, this is a wonderful opportunity. All you need to get started is an Endicia account. (see below for a special offer)
Now, without having to remember to go check the status of a particular order, an email comes to you that tells you what's up. In the event of a successful delivery, you can immediately reach out to your customer via email or convo with a welcome message:
Hi Susan,

I see your order arrived safely yesterday so I thought I'd just touch base to make sure everything was to your liking. If I can do anything for you, please let me know!

And when you're ready to order again, you can always find personally handcrafted items in my shop at myshop.etsy.com!

Thanks again for your order!

~ Awesome Professional Etsy Seller
Or, if you get a notification that there was a problem, you can be proactive and start working through it immediately. Either way it's certainly going to be great for customer goodwill and is going to have a positive impact on your reputation as a seller.
To me, it's just another example of the ways technology providers such as Endicia are making it possible for individuals or small teams to perform as well, if not better than, large organizations with high overhead and cookie-cutter products.
It's an exciting time to be in an online business!
To opt-in for the notifications, go to the Endicia website and sign-in to your account (you can't do this using the Endicia software on your computer, it has to be done on the web). Go to "update profile" and click on Delivery Status Notification Service.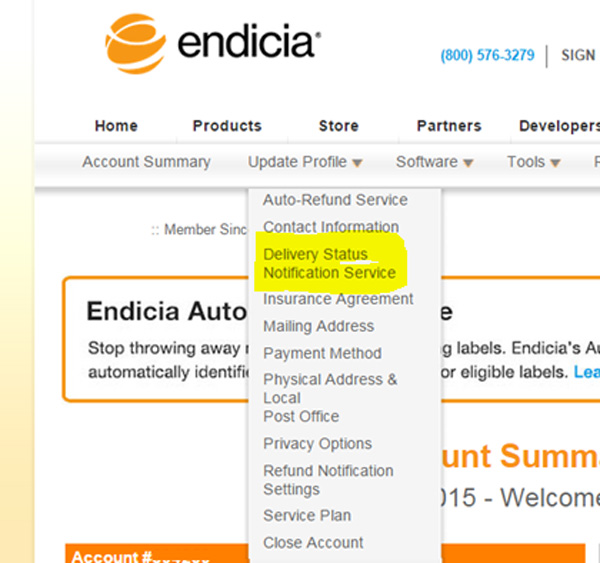 If you don't already have an Endicia Account, you can take advantage of the great offer they've extended to EverythingEtsy.com readers. You can get a 90 day free trial of the software and a free 5lb postage scale. You'll still have to pay for the Shipping Notifications Service and all of your postage costs of course. We've been using Endicia since 2013 and love it.