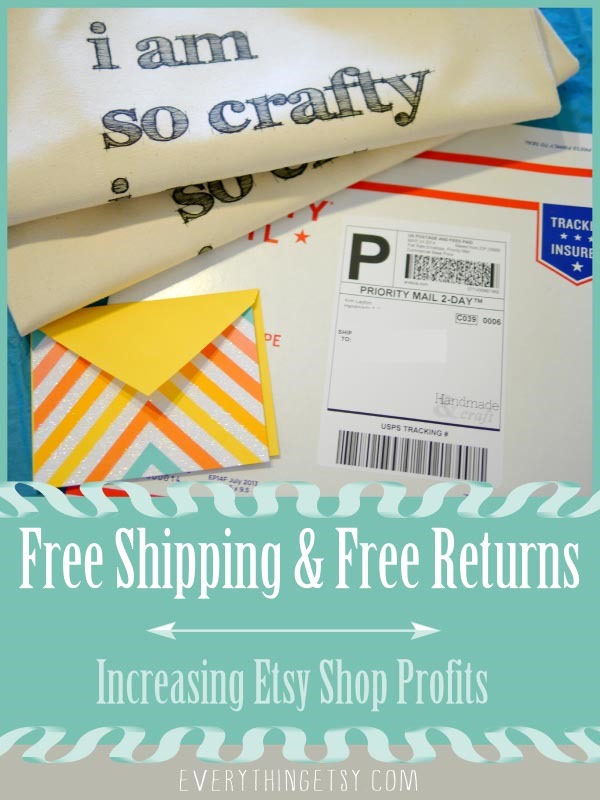 Is it time to start offering free shipping in your Etsy shop? What about free returns? It could be the most profitable move you make this year.
Before getting into the why's and how's, it's important to acknowledge the drawbacks. Free shipping, either on delivery or for returns, isn't actually free! You, as the seller, end up paying the cost. So drawback numero uno is the fear/possibility/nightmare that making a move like this is going to pulverize the profits you are seeing, which might be feeling a bit low already.
But we're talking about making money here, not throwing it away. Free shipping could be the most "profitable" move you make this year, not the most "expensive" move you make this year.
I'll never forget the advertising salesman selling me a large and expensive print advertisement. The ad was going to cost my business $1500 per month for a year and I was pretty well freaking out before signing the agreement. That's when, in true salesman form, he said "Remember, advertising doesn't cost, it pays."
I knew I was being sold to, but that didn't stop me from thinking about what he was saying and asking myself if it made sense to my business. It did, and I went ahead with the largest business expense I'd ever had at that point and it did pay off. But not until after I took that leap of faith.
Free shipping is like that. Thankfully it's on a much smaller scale. For most Etsy sellers, offering free shipping in your home country can be a money-making proposition. If done properly, it should add to your bottom line, not take away.
Five Ways Free Shipping Makes You Money
1. Better Conversion Rate
The most important way offering free shipping is going to impact your business is going to be an improvement in conversion. Simply put, more people will go ahead and decide to buy when shipping costs are not in the way. Every business is different of course and this isn't 100% absolutely true, but it's very close to that. Free shipping reduces friction in the sales process. It's as simple as that.
2. Increased Customer Loyalty
Internet shoppers are very partial toward shops that offer free shipping. Your customers on Etsy know the difference between your Etsy shop and someone else's. You're differentiated by your products, your images, your prices, your "voice", and a long list of other factors, one of which is your shipping cost. If you offer free shipping, your customers will remember, and all things being equal they're more likely to buy from you again.
Repeat customers are a MAJOR boost to profitability for any business.
3. Process Simplification
Your time is valuable. As a small independent seller there are approximately a million things you need to be doing at any given point in your day! This means that anything that saves you time is equal to an increase in profits.
Simplifying your shipping process is a big step in the right direction and if you offer free shipping that's going to remove a few steps in many circumstances. This is especially true if you bill for actual shipping cost or refund overcharged shipping, which many Etsy sellers do.
4. More Effective Advertising
As a business owner, it's important to pay attention to what works in advertising. We know great looking images work. We know being in front of the right people works. And we know putting offers in your advertising works. But offers like special sales change based on season or what items we might have too many of. Changing out all of our advertising when that happens can be too much work. "Free Shipping" can be an ever-present offer on your advertising that increases your click-through rate and therefore means more bang for your buck.
5. More Positive Reviews
Even though free shipping is commonplace and people are somewhat used to it, that doesn't mean customers don't appreciate it. When you get something dropped off at your front door for free don't you have a thought along the lines of "how cool is that?! I didn't even have to pay for shipping!" It's a nice thing and the continuation of a happy experience. Your customer is going to be more likely to leave you a positive review which increases conversion and starts the process over with someone new!
It's Not Free But It Could Be Close
Free shipping isn't free. You have to pay which is why many small businesses still don't offer it. But do you really have to pay all that much? Here are a couple of ideas that might lower the cost:
Use Less Costly Methods – If you're in the United States, the USPS has some pretty good rates for many items. It's worth taking a look to see if a change in your shipping provider, packaging, or speed could reduce the cost of sending your items. If you print your postage with a service like Endicia, you can even get free package tracking and discounted commercial base rates.
Increase Your Prices – The customers who are actually buying from you now are doing so at the "total" price, including shipping. So they're already willing to pay that price. Even if you raised your price to the full amount it currently is with shipping, chances are your sales will increase… but a better solution might be to raise your prices enough to cover just part of the shipping, knowing that the other advantages listed above will more than cover the rest.
Going the Extra Mile – Free Returns

If free shipping is now the de-facto standard, free returns is the new "wow" factor that will really raise customer's eyebrows and completely remove the most common objection to buying online… "what if I don't like it, or it doesn't fit, or…".
Major retailers are offering this more and more and with data from thousands of sales you can bet they know something you don't know. The good news is it's easy enough to figure out what they know by watching what they do. If the biggest players are offering free returns, there's a profitable reason behind it.
Check out this infographic:
Source: Endicia's Savvy Shipper Blog
Endicia has recently started offering its customers the ability to print "Pay on Use" free return labels.
This allows you to print a return label addressed to you and include it in your outbound shipment. You only pay for the shipping when a customer actually places that label on a return package and puts it in the mail.
While this may not work for every business, it is a great way to build your brand as one who puts the customer first.
What Works for Your Shop?
What about you? Do you already offer free shipping or free returns, if so how has it worked out for you? If not, do you plan to start trying it this year?
Feel free to jump in in the comments below!
Easier, Faster, Less Costly Shipping with Endicia!
Endicia is a long time supporter of EverythingEtsy.com and is totally committed to you as a small business shipper. We use them every day and couldn't be happier. Right now, you can take advantage of an outstanding offer which includes a 90 day free trial and a free digital scale (no strings attached). Click here.