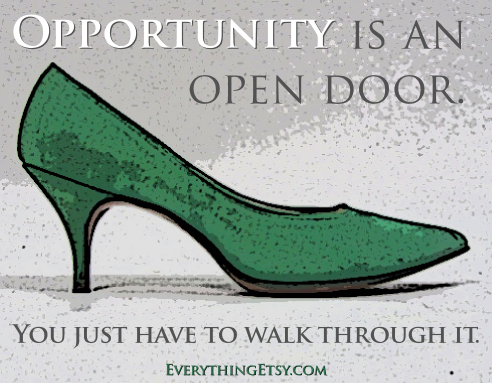 When you work full-time online, you start to see "connections" that lead back to your own stuff. You'll see tweets, pins, and shares from people you don't directly know talking about something you created. That might be a blog post, an item on your Etsy shop, or a review you wrote somewhere. Whatever it is, it's kind of neat to see that people are finding it useful.
I had one such experience today which led me back to a post I wrote last year on Etsypreneur.com called "Etsy as Your Door to a Connected Future". I went back and read that post and, I gotta tell ya, I was inspired!
Here is an excerpt that stirred me up when I wrote it and still stirs me up today:
What Does the Future Hold?

It's no secret at this point that the Internet is changing the world. We are hyper-connected through smart phones, tablets, laptops, computers, and more. Even our newest cars and televisions are connected to the world, through the web.

While there seems no shortage of people warning of the dangers of all this, and there are certainly many of those, I can't help but be mesmerized by the opportunities. Limitless, amazing, heart-pounding opportunities.

What will you do, five years hence, when your tv is seamlessly connected to an endless supply of quality video content about every conceivable subject? Will you still watch whatever happens to be on at the moment, or will you search for something of particular interest and relevance to your life?

Will you choose to listen to one of three or four offered voices for news and opinion, or will you find that voice which resonates most deeply with you as a person?

Will you feel limited in what new skills or knowledge you can gain? What about what kind of job you'll have, or what you consider yourself to "be"?

I don't think I'm going out on a limb when I say that these things and many more are in the process of changing, fast.
The Opportunities Are So Real
I'm not exaggerating when I describe the opportunities as limitless, amazing, and heart-pounding. They really are and Etsy really is a great place to start the journey. Really.
But there is one funny thing about opportunities that I didn't touch on in that post but happens to be key.
You have to do the opportunity. It requires action and persistence.
Opportunities are easily envisioned as open doors, which is funny because the saying goes "When Opportunity knocks, you better answer!" The truth is that opportunity does not come and ask you to give it a whirl. You, thanks to your sharp mind and good eye, see the opportunity. Over there, not right here. You have to walk over and go through the door.
You can't know for sure what you'll find on the other side of the door, for no two opportunities are exactly the same. But you can see what is on this side of the door. You're there! Look around. Do you want to stay exactly where you are, or do you want to change something? If you want to change, you'll need to walk through some doors. It's as simple as that.
Too Many Doors? Just pick one!
Sometimes there are too many doors. This is easy to understand when you think about it. The opportunities we see are "revealed" by information or experiences in our life. We see something in the store that we could do better. We read a book or an article that sparks an idea. A friend says the fateful words "Hey, you know what you should do?" Opportunity is born in ideas and ideas come from information.
When you start messing around with anything "Internet" there is one thing you are absolutely guaranteed to get a heaping portion of: Information.
Lot's of information is very likely going to result in lots of ideas leading to lots of opportunities. That's great but it's also a trap. Too many choices can combine with the other obstacles to "doing" something new that we all face such as fear of failure, unwillingness to leave our comfort zone, or a real need to provide a steady income. This combination of excuses and too many choices is a witches brew which will put you into a trance of inaction.
Do a little bit of thinking and calculating, but don't get stuck! Pick an opportunity and do it. Learn as you go. Make mistakes and get better. Nobody starts off an expert in anything.
Opportunities are real. They are innumerable online. And they all have one thing in common… you have to do them.