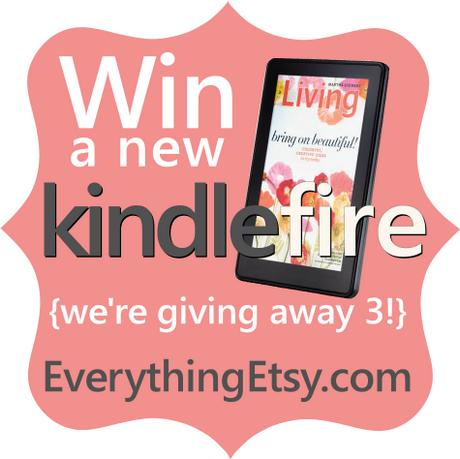 We are so excited to share this giveaway with you! We're giving away a Kindle Fire once a month for the next three months and your entry today enters you for all three drawings!
What is a a Kindle Fire and why would you want one?
I had one big item on my Christmas list last year. A Kindle Fire. I'm not usually into the newest electronic gadgets, but this one really got my interest because of the combination of Kindle eBook reader and tablet (iPad-ish) complete with apps and web browser, all in a small enough package that I could toss it in my purse and carry it anywhere.
Lucky for me, I did get one for Christmas and I've used it every day since. I totally big puffy heart my Kindle. It's awesome!
Here's a few of my favorite things about the Kindle Fire:
I love the beautiful bright color display

I love that you can read books in the dark

Very bright and beautiful display

Great for movies and videos on-the-go

I can take all my books and magazines with me everywhere

I get magazines subscriptions on it and they look wonderful

I can check email, blogs, etsy, etc. with larger screen than phone.

It's an excellent teaching/educational tool (remember, I'm a homeschool mom!)
That last point turned out to be such a big deal we got another Kindle Fire for our eighth grader, Jacob.
Bottom line… the grand prize here is definitely worth taking the time to enter!
More Prizes From Red River Paper
This three-month giveaway is sponsored by Red River Paper. We've worked with Red River for close to three years now and in that time we've had the opportunity to use a wide variety of their vast product line.
Here's why we love using Red River Paper:
Quality – As good as or better than premium retail brands
Cost – Every day low prices up to 40% less than big brands like Epson, Canon, and Ilford.
Compatibility – For any inkjet printer.
Selection – More sizes and options on the shelf and ready to ship in less than 24 hours.
You can find out more at their website, here.
In addition to the Kindle, Red River is giving away these prizes each month:
1 Box 8.5×11 Polar Pearl Metallic
1 Box 8.5×11 UltraPro Satin
1 Box Inkjet Printable Greeting Cards with Envelopes Glossy
1 Box Inkjet Printable Greeting Cards with Envelopes Linen
So there will be five winners each month and a total of fifteen winners for the entire three months.
Here's how to enter:
First Entry (required):
Enter your name and email address in the box just below. You'll be subscribed to the EverythingEtsy.com email newsletter and the Red River Paper Inkjetter email newsletter.
[gravityform id=7 name=Kindle Fire Giveaway title=true description=true ajax=false]
Additional Entries:
You can gain additional chances to win by helping us spread the word about the giveaway. Links are provided below for Twitter, Pinterest, Facebook, and Google+. You can gain one entry per social share, up to a maximum of four extra entries per contestant for this month.
You can also use the social sharing buttons at the bottom of the post just before the comments. You must leave a separate comment for each social share additional entry with your username and the platform you shared on. Thanks!
Misc. Rules, etc.:
You only have to enter your name and email in the primary entry once to be entered for all three months, but the additional entries apply to this month only.
Random drawings will be held on the 15th of May, June, and July 2012. Winning entries will be checked for adherence to entry rules and qualified winners will be notified by email. The prize will be sent directly by the sponsor, Red River Paper.
You must leave a comment below for each additional entry and your comment must include the name (username) you use for the social media platform associated with that entry. So if you enter for tweeting something, include your twitter @username so we can verify your entry.
No additional entries are eligible to win without completing the required email entry above.
You can unscubscribe from the email newsletters at any time, but only active subscribers are eligible to win the giveaway each month.
Good Luck!
~Kim