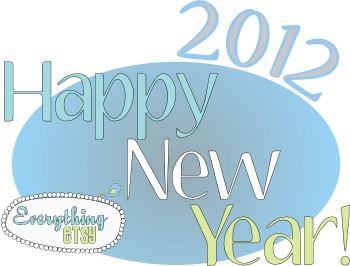 Happy New Year!
I'm really excited about the year to come. And I don't just mean in an optimistic "it's all good, happy, happy, joy, joy, rah, rah!" sort of way.
I confess that I try to get that sort of feeling revved up inside me every January 1st. I mean, why start the year off feeling down or grumpy? It is a new day after all!
But this year is really different. I'm excited because of real things that I see happening in the world I live and work in.
I'm excited about 2012 for Handmade. I'm excited about 2012 for Etsy sellers. I'm excited about 2012 for bloggers.
The excitement I feel for these things is more than just a "mind over matter" attitude adjustment. This excitement is based on facts.
Millions of people now know of

Etsy

and how to buy handmade goods online!

The quality of products being offered is getting better and the handmade makers are frequently setting the trends for everyone else!

Online marketing of handmade items is getting easier through the use of blogs, social media, and online video.

Creative sharing in places like

Pinterest

is fueling a handmade renaissance (for real!)
I could go on an on!
I
'm also excited about some of the things I've been working on personally such as the growth of this blog, EverythingEtsy.com, my felt shop, my first real print publication, and being a community leader at the Blissdom Conference in Nashville in late February.
I think it's going to be a fantastic 2012 and I'm so looking forward to sharing it with you.
I'd love to come visit your blog and see what you've been up to! Tell us all what you're excited about in 2012 and leave a link to your blog or shop in the comments so I can stop by for a visit!
If you're not a subscriber to Everything Etsy, I'd love for you to join our mailing list. Sign-up in the box just below for free.
~Kim