Do you use your blog to help build your Etsy Business? We regularly talk about ways to do that, such as how to put an Etsy Mini on your blog (video).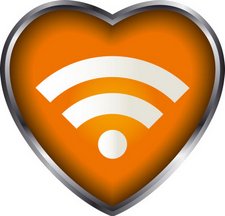 We have a new idea for you today!
Use An RSS Feed To Display Your Feedback
I forgot what I once knew about the initials R.S.S., so I guess it really doesn't matter! What does matter is what it does.
Basically, an RSS feed "broadcasts" information over the internet, just like a television broadcast or a radio. Anyone who is tuned-in to the right channel will get the broadcast. Generally speaking they are free and most folks use RSS feeds to keep-up with the blogs they like to read.
Well, thanks to some nifty work by a very smart member of the Etsy community, Ian at Etsyhacks, you can now get your shop's feedback broadcast via RSS.
(note: after posting this, some of you tried to use it in Blogger…it works, but isn't as effective due to limited content shown, WordPress shows more. If I get a fix, I'll post it here! Read more in the comments.)
In WordPress, it looks like this: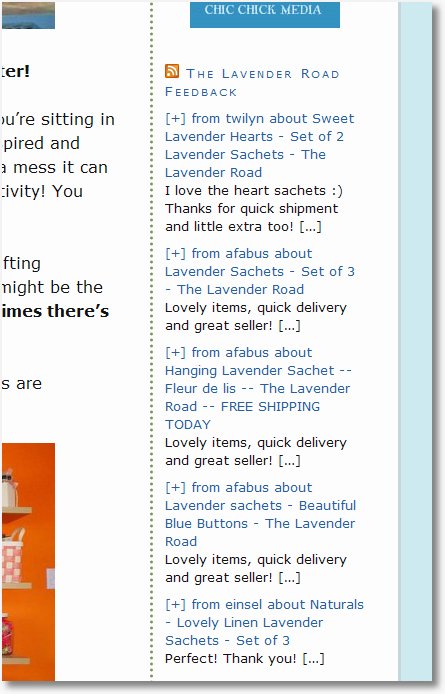 We'll show you how to use that on your blog to help you get more sales.
Step One
You need to get your shop ID numbers. The easiest way we found to do that is by going to your shop, and clicking the link to view your feedback. The shop ID will be in the URL, in the address bar of your browser. In Firefox, it looks like this:

Just highlight and copy that number.
Step Two
Go to www.etsyhacks.com/feedback/ and you'll see a place to paste in that shop id: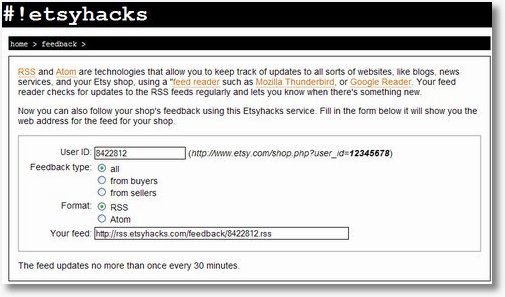 Simply paste in the id number (just the number) and hit enter. You'll then see the feed address come up underneath next to your feed:
Copy that whole URL and move to then next step.
Step Three
Both Blogger and WordPress have widgets (gadgets) for RSS feeds. They're not complicated at all once you find them.
Here is what the "Layout Tab" on Blogger shows you, after you click "Add a Gadget":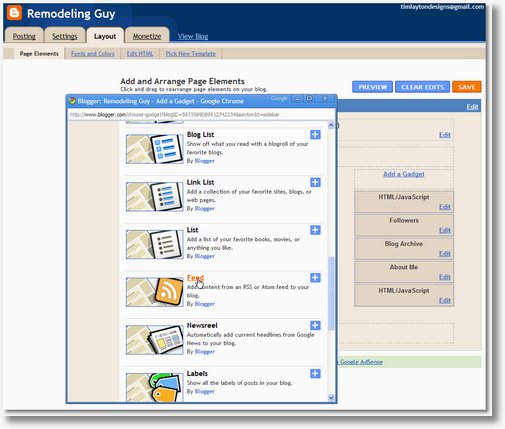 In WordPress, you'll see something like this: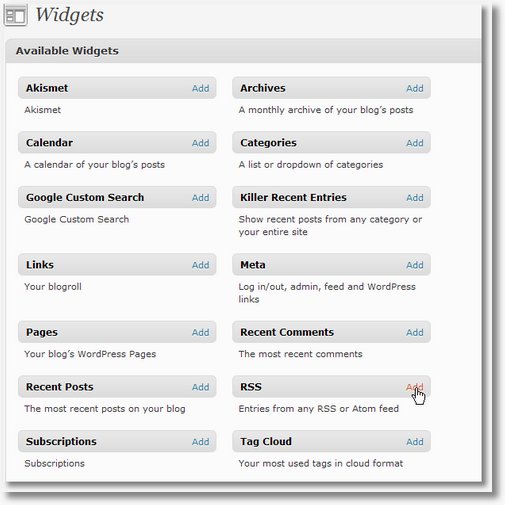 Both WordPress and Blogger give you a place to enter the feed url that you copied from EtsyHacks.
Step 4
Decide on a few settings and where you want the feed to appear in your sidebar. That's all there is to it!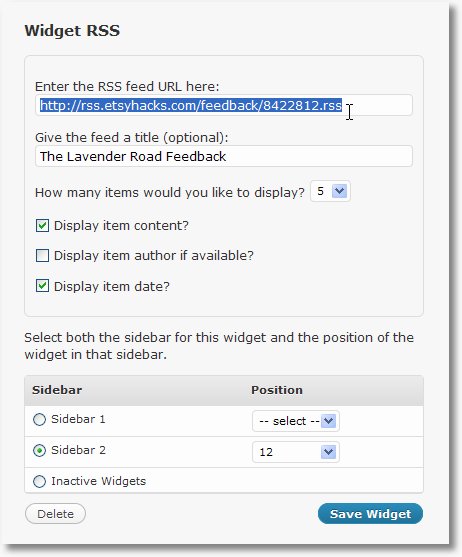 Feeds May Not Be Pretty, But They Are Helpful
This post ought to be at about just the right length for you to just glance to the right to see what it looks like. Right now there are feeds for The Lavender Road and for Flashy Fish .
I wouldn't put these at the top of the sidebar because they're not pretty! But most blogs have plenty of sidebar space down low on the page. Why not use it to show off your positive feedback? Each one of those feedback items represents a link to your shop! It's bound to increase traffic, and traffic equals sales!
We'll try it for awhile to see how it works, what about you? Gonna give it a go?