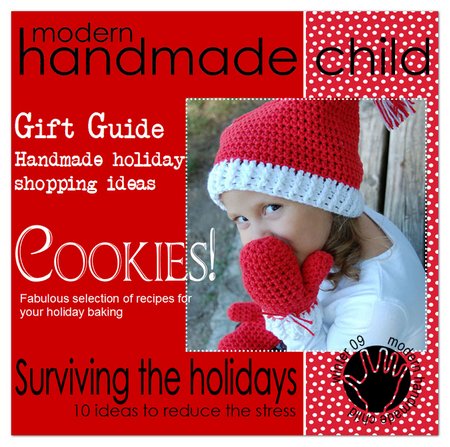 Have you seen this wonderful online magazine? Modern Handmade Child is a full of fantastic articles, seasonal fashions for kids, handmade holiday decor, and a gift guide to help you find the best handmade gifts for any budget.
Modern Handmade Child was launched in August 2009 by Gretchen Jakub Fabre of Chichiboulie and Shannon Hanley of The Clever Kitty. Gretchen had seen the work a friend and business contact had done on another online magazine and thought that it would be possible to do something similar for children. She had previous experience in publishing as editor of a small publication in the UK, and Shannon had many contacts as leader of the Etsykids Team. They got together, discussed the project, and came up with a concept and a group of writers and contributors, many of whom are members of the Etsykids team as well.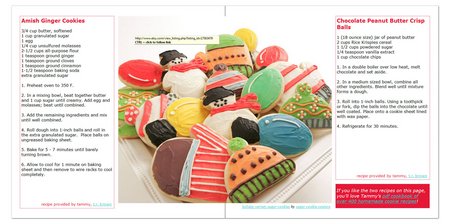 The idea behind the magazine is to promote handmade items for children as well as a back-to-basics kind of living. Modern Handmade Child offers everything from decorating and style ideas for our young ones, to fun recipes and craft projects, as well as articles for working mothers and balanced family living. Their first issue was met with a lot of enthusiasm, and their second issue is available now!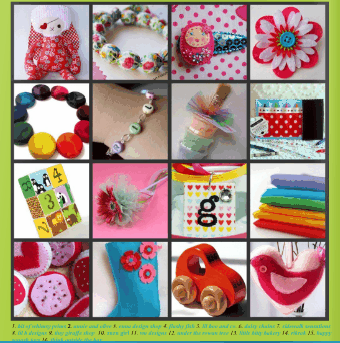 They even listed one of my Flashy Fish ponytail holders (top right corner)…Cool!
I know you are going to love the colorful photos, tutorials, and recipes!
Go check out this beautiful magazine at www.modernhandmadechild.com and subscribe!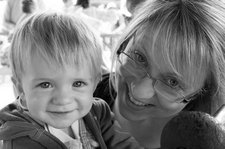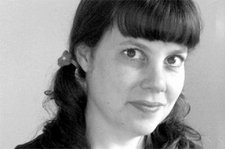 Thanks Gretchen and Shannon…Great job!
I'd love to read your comments once you've seen an issue! What did you think? What was your favorite part?