Crafts for a Cause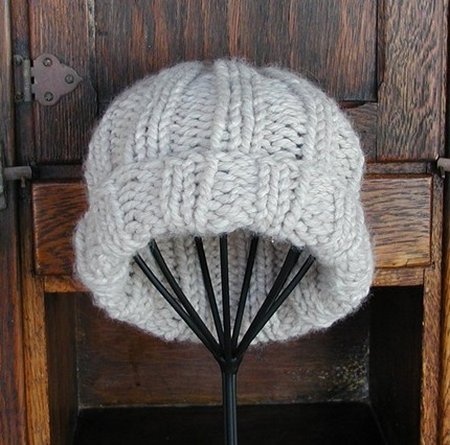 This photo is from Island Heights. You can purchase patterns from her shop for 3 different styles. You might need them for this…
History of Hats for the Homeless from their website:
Fall brings a crispness to the air and a chill to our bones to let us know the colder winter is not far away. The seasonal rituals begin. The fallen leaves are vigorously raked, gutters are cleaned and shrubs are covered as protection against the coming cold. Children with rosy cheeks run about playing and jumping in the great leaf piles everywhere. The warmth inside beckons outsiders to come in and be protected against the chill of Fall and the bitter cold of coming winter. Hot soup, trick or treaters, Thanksgiving feasts, decorated Christmas trees are all anxiously awaited.
On the NYC streets another scenario evolves for those that are homeless. As the air turns crisp, plastic bags, newspapers and cardboard are collected and stuffed into shabby shirts and coats. There are rosy cheeks but only somber faces, as no warm home awaits these homeless souls. Their daily struggle for warmth begins.
Winter is very hard on the homeless that roam the streets by day and desperately try to keep warm by night. Their plight is especially tough during the Holiday season when they are so alone with no family, no Thanksgiving feast, no warm Christmas cheer from friends, no gifts under a Christmas tree. Many only have faint childhood memories to fill their souls.
Hats for the Homeless grew out of the heart of one young man who cared about those less fortunate. Each year he would gather friends during the Holiday season and together they would roam the NYC streets giving hats, scarves and gloves to the homeless. He died suddenly in 1998.
Hats for the Homeless was created in his memory to continue the tradition he started. Through Hats for the Homeless, his family and friends crochet, knit and collect hats, scarves and gloves throughout the year. The weekend before Christmas at St. Francis Xavier's Soup Kitchen on West 15th Street in NYC, we distribute all these gift-wrapped items to the homeless that flow through St. Francis Xavier's doors. We see somber faces turn to grateful smiles. Sometimes they exchange the gifts with one another for a more needed item. Sometimes they come back looking for more. It is heart-wrenching as the number of homeless grows each year and there is not a gift for everyone.
We ask that you make Hats for the Homeless part of your Holiday Traditions. If you know how to crochet or knit or would like to just donate a hat, scarf or pair of gloves, then send them to the address below. Please do not send money. Wrapping your gift will be helpful. The warm gift-giving feeling that comes with giving this gift will surpass any other gift you give this Holiday season.
Hats for the Homeless
905 Main Street
Hackensack, NJ 07601
info@hats4thehomeless.org