As Etsy sellers, we're always looking for ways to help increase sales! We love it when the email inbox lights up with sold items, especially when it happens overnight, while we're sleeping! That's cool!
One of the ways to make this happen is to list and re-list items at the best times of day. The trick is knowing what those times are!
Time Your Listings to Peak Hours — Get More Sales
Why Does it Matter?
Before we try and figure out what those top times are, lets get a quick look at some of the tools Etsy provides to help people browse through recent listings; there are a few!
At the bottom of the Etsy front page, you'll find a scrolling ticker showing Recently Listed Items.
You might not make it onto this one just due to sheer numbers and the obvious lack of space here. But the saying that never convinced us to play Lotto, works here…you can't win if you don't play!
If you happen to get your listing here, you're bound to get some clicks.
The Full Screen Option
Check out this awesome way to browse! By clicking just above those Front Page New listings where it says "see even more recent items", I can find my way to this cool option: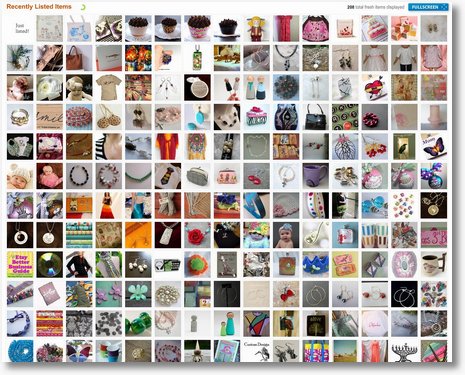 Couldn't you just stare at this for hours? You know people do. So being on this page during peak hours is a great way to get traffic to your shop.
Time Machine
Another place for your newly listed item is in the Time Machine, with the "Just Listed" option selected.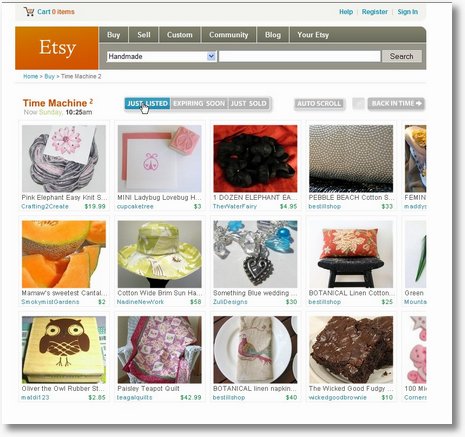 And that's not all…
Search Order
Since the original writing of this post, Etsy has switched to a relevancy search system rather than time-based. This makes timing your listings to certain times less important, but can still be helpful.
The Etsy search engine returns results in reverse chronological order, with the most recently listed on top. If you're in a popular niche that gets searched frequently, this could be huge!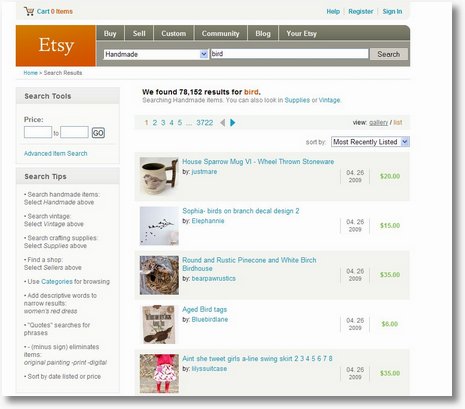 So, now that we've shown that listing in peak hours is a good thing. What are they?
When Are Peak Times?
There isn't much out there on this and we're not really sure that there is a "one-size-fits-all" answer. The peak times in your shop could be totally different than in our shop because your customers are different than ours.
It pays to know your customer and try to imagine their habits.
Here is our best shot at it based on our own experience with both Etsy sales and blog traffic. Both our blog traffic and Etsy customers are generally women over 25 and in the U.S. This is NOT scientific!
Best Time of Day

10pm – Midnight – apparently the kids are in bed, and it's "wind-down" time. Our busiest times have always been in this range.
6:00 am – 8:00 am – our traffic seems to show that lots of people enjoy their morning coffee while browsing the internet.
11:00 am – 2:00 pm (weekdays only) – it seems like a favorite lunchtime activity is checking out things online.

Worst Time of Day

4:00 pm – 7:00 pm (weekdays)- people seem to disappear completely.
Find Out For Yourself
You can use Google Analytics for your Etsy Shop to watch your own traffic and see if you can find a pattern.
Watch your sales, or look back at your past sales, to see if some key times or days jump out at you.
Don't forget the photography!
The key to all of this working is good photography. Your picture has to scream "click on me". Read our post on the subject, How-To: Photograph Your Work For Sale On Etsy.
What have you found?
Give us some feedback… what times have you found to be best for Etsy sales? What days of the week?