This is is one of the biggest and most exciting projects we've ever worked on and it has been worth every minute of it!
We would like to introduce you to Handmade Tickle, a brand new place for makers to learn, grow, and love the art of blogging.
If you've ever thought about starting a blog and thought it was too hard or it might be too pricey, this is for you. If you're an Etsy seller, cooking queen or want to share all your DIY projects with the world, this is for you!
Can you tell I'm excited??? I would love to have you join us!
Here's a bit more on what Handmade Tickle is all about…

You'll instantly become part of this creative community! Membership includes access tools and a member's only venue to help you grow your friendships while you grow a blog into a resource that's out-of-this-world successful!
Founded and built by Kim & Tim Layton from EverythingEtsy.com and Etsypreneur.com, Handmade Tickle is a place where we hope to provide the tools, help, encouragement and community that will totally transform the way you look at blogging.

Blogging will help you reach new heights! As you build a blog audience you'll have a following of people who look to you for help, information, and direction. You can use that to build your business, serve a good cause, or even make a living!
You'll also learn so much through blogging!
Become a better writer
Develop your photography skills
Learn website programming such as HTML, WordPress, and CSS
Turn yourself into an expert in social media
Just Some of the Benefits of Membership
An awesome community of makers blogging their way to success!
Free hosting and super-easy full service set-up!
Free WordPress installation
Expert assistance with other WordPress Themes
50+ Educational Videos all about blogging
30+ downloads including graphics, Printables, Stock Photos, and more
PDF Downloadable Tutorials and guides focused on building great blogs
Built-in Tools including a full image editor
Full-time friendly expert blogging support in the Forums
Beta Member discount is forever!
See what members are saying:
-Thanks for what you're doing with Handmade Tickle. Without the guidance and support, I would probably never jump in and start a blog on my own. – DeAnna
–Finally, after 2.5 years of being in business, I have the makings of a blog that I can be proud of. I have always wanted one but didn't know how to get it started. You have provided the resources and support that I needed to make it happen. Thank you SO MUCH! – Christy
–I've really enjoyed the HMT getting started videos which helped me finish getting my new site set up on my own! – Janet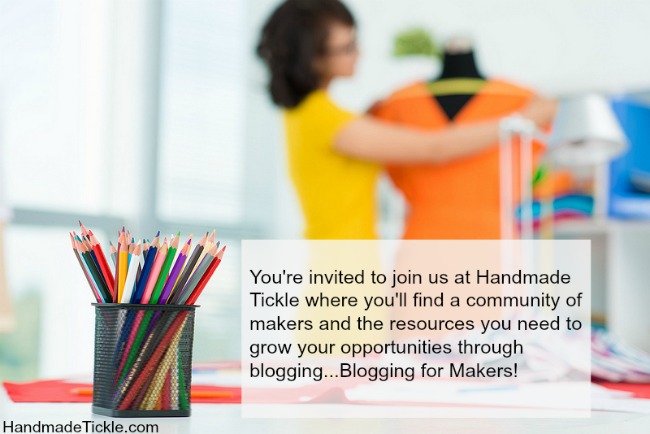 Be one of the first to join our new community for makers and save big!
Limited Time Discount and Free Blog Hosting Offer:
Join us for a special price of $10/month for a limited time! It's 60% off our original $25/month and you get to be one of our charter members!
We offer free hosting if you need it to get started blogging with WordPress…yep, it's true. It's included in your Handmade Tickle membership!
Visit Handmade Tickle for all the details!

Join Handmade Tickle today by clicking right here to start your membership!
There is way more to this than we can fit into one post, so please go check it out at HandmadeTickle.com and let us know what you think. We are excited about being part of your blogging success!
See you at Handmade Tickle!
Kim & Tim