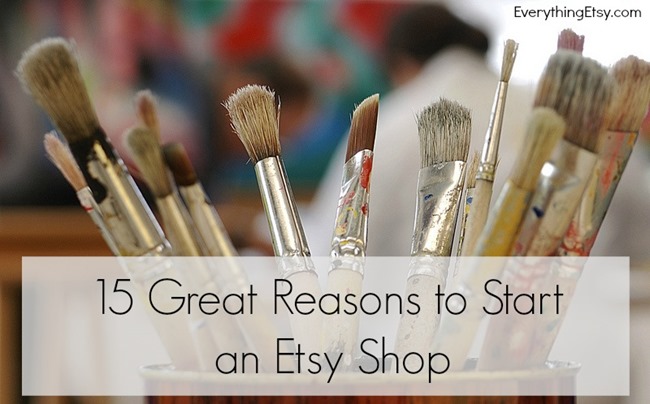 15 Great Reasons to Start an Etsy Shop!
When I see someone making beautiful things I instantly want to share why they NEED an Etsy shop! Not in a pushy way…but in a helpful, eye-opening kind of way. Are you a creative person that likes the idea of selling some of your pretty things? Etsy is the perfect spot for you to share your creations with the world…in a big way!
Here are a few great reasons to start an Etsy shop…well, maybe a few more than a few.
Do you dream of selling your handmade items for a living one day? Start now!
You can open an Etsy shop in minutes!
Are you super creative and looking for extra income? An Etsy shop can help you earn that extra money…even if you just want to buy more craft supplies with it!
Etsy is the first site many people will visit when they're searching for handmade items. It's well known already!
Do you want to stay home with your children and work from home? This couldn't be more perfect!
Etsy is a trusted name which helps you sell more.
Starting an Etsy shop is one of the fastest ways to start sharing and selling your creations with the world! A website is great, but an Etsy shop is a simple way to begin.
You'll have stats to help you see which keywords are working for your products. You'll be able to easily find out what brings people to your shop and do more of that!
It's easy to try out selling new products without a big investment.
Etsy is a great spot to start perfecting your photos, descriptions and more. Practice makes perfect!
There's feedback that shows potential buyers just how much your customers love you.
Want to have a spot to send craft show customers? This will work!
You'll find teams in every niche to join and gain feedback on your products. Great friends can be made here.
You can be discovered by magazines and retail stores searching on Etsy for great products. There are many success stories!
Do you like the idea of waking up to sales and money in your account? I love it! Your shop sells for you 24 hours a day.
You would think I worked for Etsy by reading this list, but I don't. I actually started an Etsy shop to sell felt hair clips in 2008 to earn a little extra money for Christmas gifts. My life has been changing ever since. Now I work on my blog full time!
I see so many creative people with huge potential, and we would love to help you grow your dreams into an amazing future!
There are countless reasons why you should start an Etsy shop, but this should give you a few ideas.
Have an Etsy shop already? I'd love to hear why you started!
~Kim
P.S. Did you download your free 7 page Marketing Bliss Blueprint yet? It was just released and sent to some of you by email. Click here to download it!