Driftwood Vase Tutorial
Guest Post by Simplicity in the South
Back in February, I was dreaming of the beach, fruity drinks with little paper umbrellas, and vacation time with my family while I hot glued to my heart's content and made a heart from driftwood. Today, I'll show you how I took some more of the driftwood that I bought on Etsy and made a driftwood vase. By the way, I'm still dreaming of that vacation.

1. A glass jar. I up-cycled a jar that once held a candle.
2. Flat pieces of driftwood.
3. Measuring tape
4. Sandpaper
5. Hot glue gun and glue sticks or E6000 glue (more permanent but the smell is strong)
6. Jute twine
7. A chop saw or miter box


Measure the jar to see how many rows of driftwood you'll need.
I ended up needing a couple more inches than the circumference of the jar. Measure the height of the jar and add an inch. This is the length you'll need to cut the driftwood.
Before you add your cut pieces of driftwood, scuff up the jar with sandpaper to give it some grip. Clean the jar and hot glue the pieces of driftwood on. You don't have to start on opposite sides like I did. I tried to take one of those pieces off after the glue cooled and it didn't budge. The hot glue may soften if exposed to warm temperatures over time, so you will need to keep the vase out of direct sunlight. You can use E6000 glue if you want the driftwood to stay permanently. I, personally, don't care for the fumes.
The last step is to braid three pieces of jute twine and hot glue it around the vase. I could have put a small cup inside the jar before I added the water and flowers, but I plan on wiping the inside clean with a paper towel dampened with vinegar.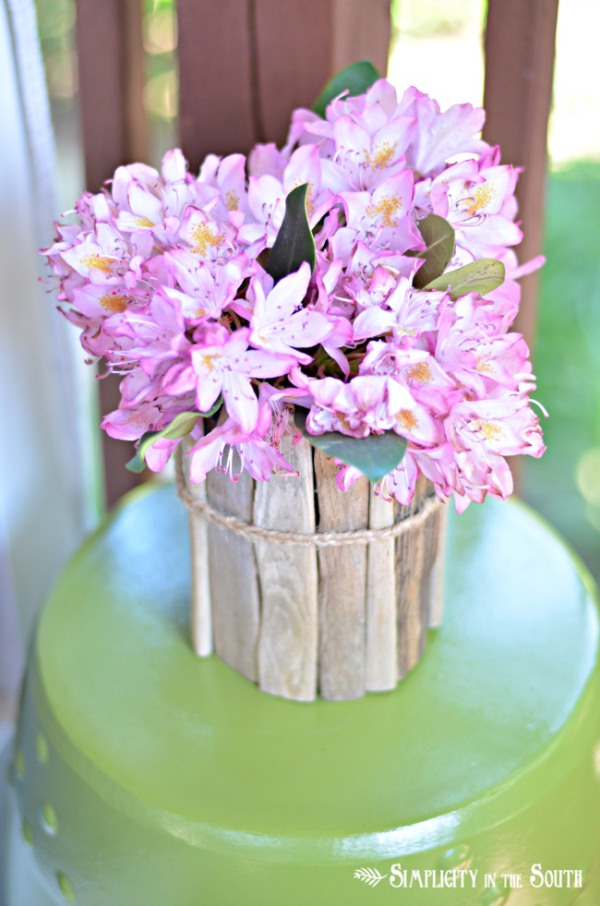 Tricia is so creative! Visit Simplicity in the South to see so many beautiful tutorials and inspiring posts. I love her style!

Right now she is offering a 15% discount for all Etsy shops and blogs. The promo code is on her advertisement page.

Keep up with the latest from Simplicity in the South through social media…
Facebook l Pinterest l Instagram
This post is part of our Summer Splash series! Did you miss any of the fabulous guest posts? Visit our Tutorials Gallery for tons of great project ideas!
What kind of summer projects have you created? I'd love to hear about them!
~Kim