{This post is by my husband, Tim, who writes for Etsy sellers at Etsypreneur.com}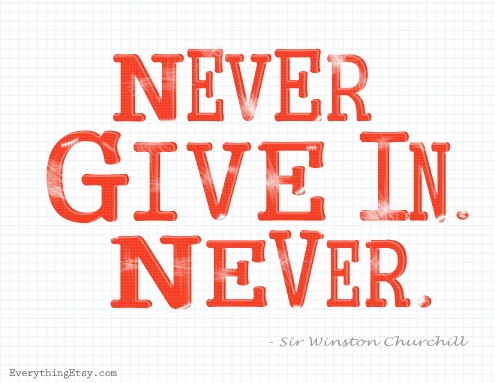 Never give in–never, never, never, never, in nothing great or small, large or petty, never give in except to convictions of honour and good sense. – Sir Winston Churchill
Why do businesses fail? At the heart of the matter there are only two reasons.
First, since businesses run on money, they can reach a point where there simply isn't enough money to meet the immediate needs. No money to pay the bills usually means failure.
The second circumstance isn't really failure inasmuch as it is "shutting down". You can shut a business down the same way you shut your computer down. You decide to quit and turn it off. End of story.
One of the most amazing and inspiring facts about so many (most) Etsy seller business models is that the first core danger, running out of money, isn't really an actual danger at all. That leaves only one way for your business to fail… you decide you've had enough and shut it down.
Lack of Money Won't Kill Your Business
When I say to you that money isn't the problem, you might be thinking, um, I think it kinda is. Sure enough, we all need money. That is a nearly universal fact that's spanned cultures and centuries. Even the cavemen had to pay the light bill, right? And then there's Netflix, and the unlimited texting plan, and…
So, yes, you need money. But does your business? For most Etsy sellers the answer is not so much. That's not to say your business wouldn't benefit from an investment because it probably would. There's always room for better business cards, an improved blog or website, or some marketing. (If you're in the investing mood, check out our resources page for what has worked for us and others)
But that's you. Your online business, on the other hand, is a lean mean no-overhead machine. It's such a tight ship that, like a camel crossing a barren desert, it can make do for a very long time on very little investment.
And lucky for you it's not picky about the investments it does get. It's just as happy with a few hours of sweat equity as it is with a cash money infusion. In other words your work, and no money (to speak of), will keep it going for as long as you wish.
I know there are arguments. There's the massive listing fees to contend with, then there's the cost of hosting a blog, then there's the advertising. Blah, blah, blah… Just excuses. All of them.
Don't Give Up
So if my assessment so far is accurate then that only leaves one way for your business to fail.
You quit.
So don't quit and you can't fail! It's really that simple!
Even if you slow down, don't stop. Let me ask you something… If you've got an Etsy shop online and you have legitimate product in that shop for sale, are you in business? Yes!
Just because you're not making any sales right at the moment doesn't mean you're not in business. Are you thinking about your business? Are you trying to learn better ways to do things? Are you looking at what is working for others and considering how you can apply that to your own shop? Are you dreaming of what the future might hold?
Yes, yes, yes, yes! All of these are part of running a business. Tiny, almost immeasurable progress is not the same as no progress at all and it is certainly not the same as quitting. It is progress!
One caveat… nobody lives forever. I've only known a couple of people who have lived to be more than 100. So there is a clock. You can't always inch along at a snail's pace and expect to get somewhere. It won't happen. You do have to pull out all the stops every now and again if you want to get somewhere in this lifetime.
Yet the fact remains, at this point undisputed, the only way you can fail in an online business is if you quit. Simple as that. So don't quit.
Succeed!
Want more? Try this post – Success on Etsy {It's a Sure Thing}