If you're selling on Etsy or selling handmade anywhere else, you, my friend, are in a great spot!
Handmade is growing so fast it's hardly measurable. Etsy is just one example of the trend but it is a great example! See below: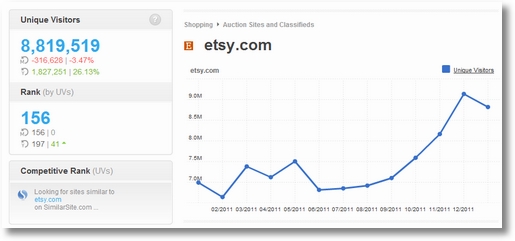 It's no surprise that Etsy traffic ramps up before the holiday shopping season, but take a look at both the sheer volume of people and the year-over-year growth shown on the left side of the graphic (from compete.com).
26% Yearly Growth! – This for a website that is already almost one of the 100 busiest sites on the whole Internet!
Love: Handmade's Secret Weapon
The reason this is happening is so simple and you're going to think I'm a little crazy when you read it.
Handmade is Fueled by Love. Love is the secret ingredient of the handmade marketplace that no mass production item anywhere can compete with.
A handmade item is created with love. It is often purchased as a gift out of love. And it is cherished and loved unlike anything off the shelves at a big-box store.
Are You Selling On Etsy?
If so, keep at it! Consider it a real opportunity. If not, why not?
Check out our Resources Page for tools I use to work online riding the wave of Handmade awesome-loving-perfection-ness!
Raise your hand if you love handmade! 🙂
~Kim