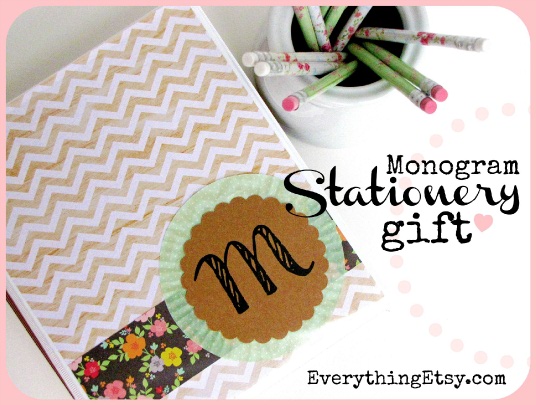 Monogram Stationery Makes an Awesome Gift!
Hi it's me Jaime! wanting to share some inspiration with you today ♥
On my quest to find something different for my girls' teachers this year,
i stumbled across a neat idea … a thank you note kit for kids …
so that writing thank you notes or birthday cards would be simple
and everything would be in reach all bundled in a little box together.
I thought this would make a wonderful teacher gift,
and with the holidays fast approaching, perfect for a friend or neighbor too!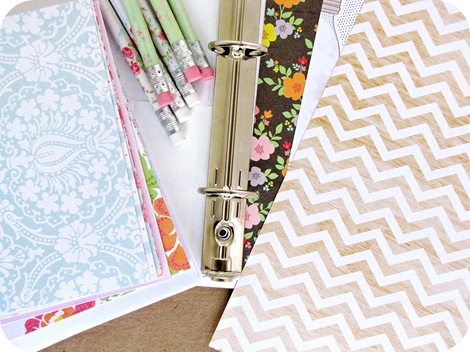 The supplies and process is very simple… I took out my scrapbook paper stash and chose papers and cards that would look pretty together.
I also used a small 3-ring binder (9 x 7.5) ~ kraft paper for the monograms
scalloped circle paper punch ~ cupcake liners
and some pretty pencils i found in the dollar bins at Michaels.
I started by making pockets, to hold all the goodies, out of chipboard
(heavy cardstock works well also) … cutting them so they would fit inside the binder
folding the pocket, punching holes, then sewing up the edges.
The idea is easy with the picture below as reference …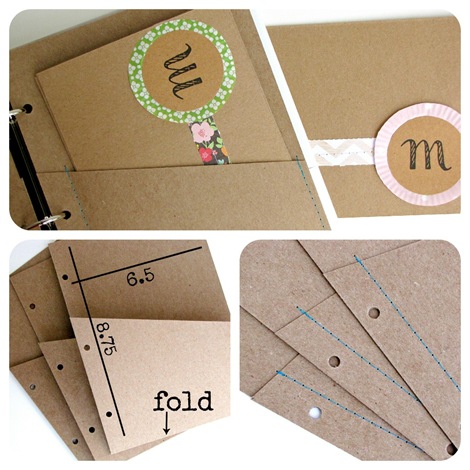 … now cut the scrapbook paper to fit inside the clear sleeves of the binder.
then add some ribbon around the spine of the binder for embellishment.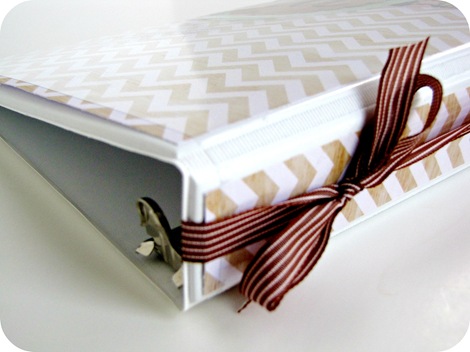 To make the cards, I chose a pretty font in my word processing program, copy and pasted the letter, making the first one larger for the outside of the binder (see first picture) then punched them out …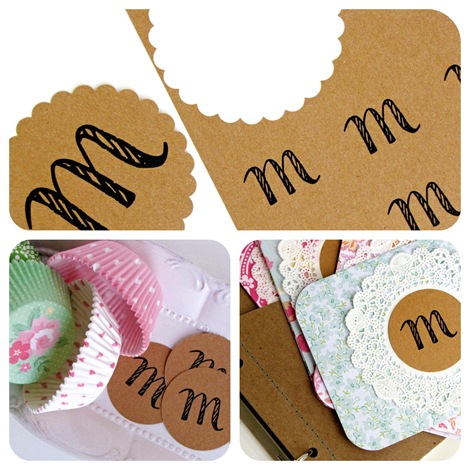 Anything can be used to decorate cards or tags! I love to think outside the box!
I ♥ cupcake wrappers, since they are already pleated, they make a great ruffled paper.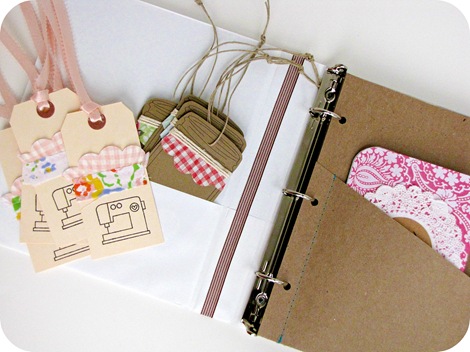 This kit was a birthday gift for a friend, who is a die hard crafter like me!
I included tags and cards in the front pocket, that she could attach to her always lovely handmade gifts .
Don't forget the pencils ~ tied with some pretty ribbon on the outside and it's done!
The possibilities are endless with this kind of present … any cards, tags,
or paper goods can go inside. Maybe a mini calendar & some postage stamps?
happy crafting!
~Jaime
My name is Jaime from Raising up Rubies ♥ stay at home mama to 2 girls and wife to a handsome hubby

…my love is for all things crafty and i feel so blessed to have a super cute space to play & create in…
She's a super talented contributor to Everything Etsy! You can find out more about Jaime on her blog…Raising Up Rubies. Visit her Etsy Shop for cute stuff!
What kind of handmade gifts have you made?
~Kim
Looking for more DIY Gift ideas??? Visit our new Project Gallery for tons of tutorials to make your gift giving extra special!