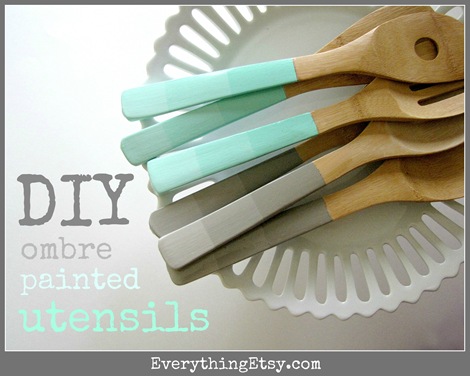 Hi, I'm Jaime from Raising Up Rubies, come on…let's make stuff together ♥
so I've been spending a lot of time at Target lately 🙂
checkin' out the super cute stuff for summer…I've had my eye on these paint dipped bamboo utensils
have you seen 'em??
but at $8 a pair…my brain's thinkin' we can make these
really just 'cause it'll be downright fun…
so I spend a lot of time on Pinterest too 🙂
(don't we all?)
and I'm noticing all things ombre…which totally floats my boat
I love anything that has graduated colors
(i' m a sucker for color)
the 2 ideas were merged to create these pretties in the photo above ♥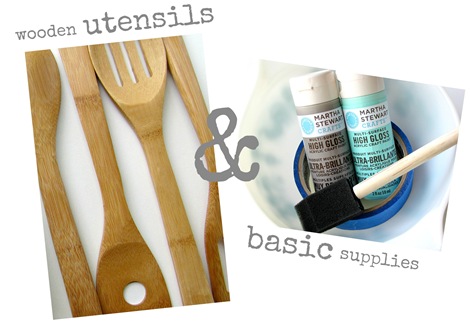 oh so very simple to do in an afternoon of crafting
(bonus: you can get other stuff done during drying time in between coats)
so let's start with just a few things…
~ just a few things ~
Supplies needed:
1. acrylic paint colors that you ♥
2. white acrylic paint (not pictured)
3. brush
4. painters tape (at any hardware store)
5. if needed ~ polyurethene (also not pictured)
(the poly is optional for heavy usage & durability…will get to this later 🙂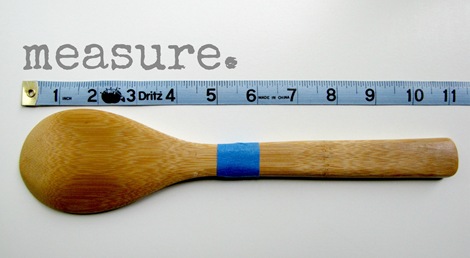 ~ measure ~
using the tape, mark each utensil at the desired height
be sure to press firm to keep any paint from bleeding through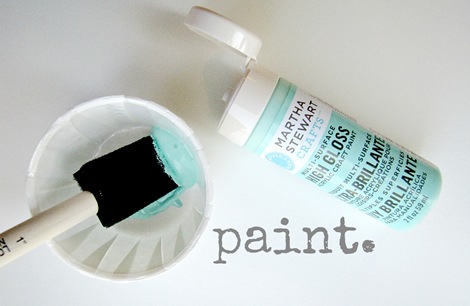 ~ paint ~
bust out the cuteness! & paint up to the tape
i did two coats of the first color with 30 minutes of dry time in between each one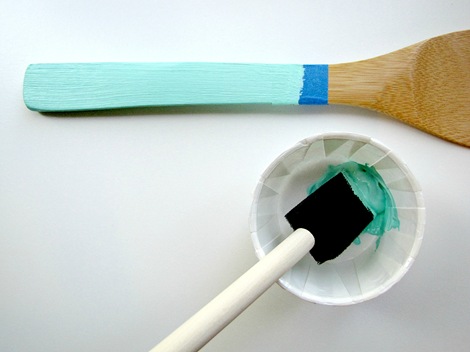 ~ first color ~
in the same paint mix in some white paint to achieve the graduated color your looking for
more white = lighter shade
less white = darker shade
(just sayin' 🙂
apply a new piece of tape 1/3 of the way down each time, again making sure to press firm
(really make sure the paint is dry between each coat…so it doesn't peel off when you remove it)
here's the graduation of color…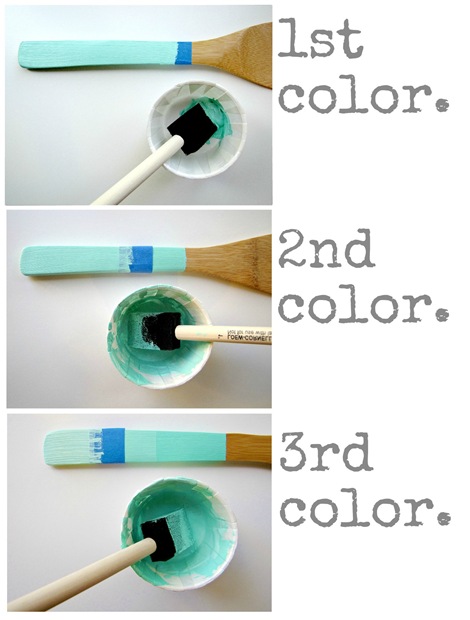 ~ 1-2-3 ~
repeat the same process 2 times!
(for the 2nd & 3rd color I only needed one heavy coat since the first color really covered the wood)
so as I mentioned earlier about the polyurethane…
i had a can left over from another project
I completly submerged each handle into the poly right up to the paint line then hung them to drip dry completely, then repeated that process 2 more times
it really makes them shiny & super scratch/wash proof
the paint I used was multi-surface Martha Stewart High Gloss enamel paint
it says on the label that it is water & weather resistant 🙂 so I'm thinking you don't need to coat it with a polyurethane
but can if it makes you feel better about them enduring lots of use
just a side note: if you do dip it, be sure not to use the handle side in any part of the cooking process!
(again…just sayin'…but hopin' you already know that 🙂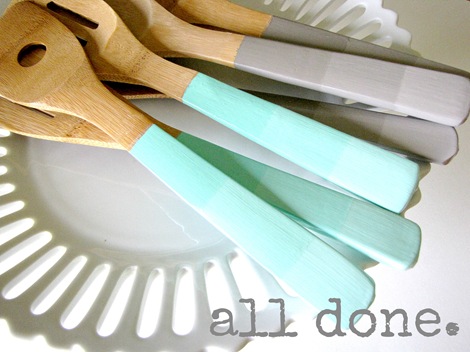 ~ all done ~
so easy right?! and super cute ♥
i think these make me want to cook more 🙂
much loves
~Jaime
Meet Jaime…Everything Etsy's new contributor! I know you are going to love her as much as I do!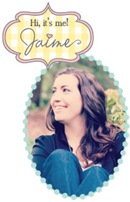 My name is Jaime from Raising up Rubies ♥ stay at home mama to 2 girls and wife to a handsome hubby

…my love is for all things crafty and i feel so blessed to have a super cute space to play & create in…

I'm super happy to be here as a regular contributor for Everything Etsy…a real pinch me please moment!
She's super talented! You can find out more about Jaime on her blog…Raising Up Rubies.