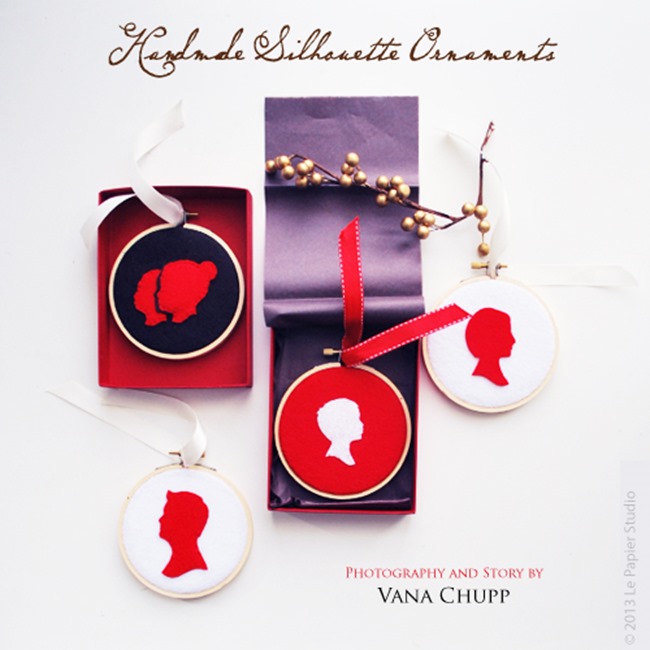 Create fabulous handmade silhouette ornaments with this beautiful tutorial from Vana at Le Papier Studio! What an amazing personalized gift!
Don't miss the giveaway to Le Papier Studio at the end of the post!
—————————————————————————-
Handmade Silhouette Ornaments
Supplies Needed:
4.25" wooden embroidery hoop,
ribbon, sticky-back felt (I used red, white and chocolate–feel free to pick your own colors),
scissors, pencil, printed silhouette,
backing pattern for the ornaments (download the template here)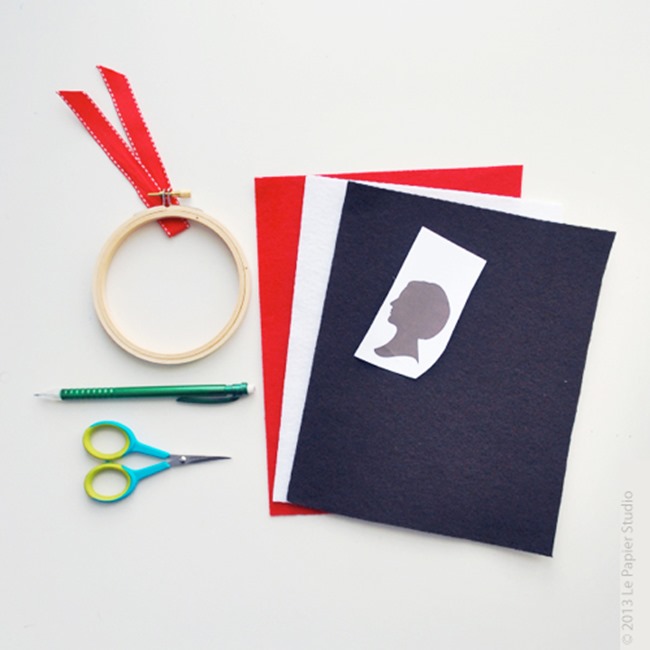 Instructions: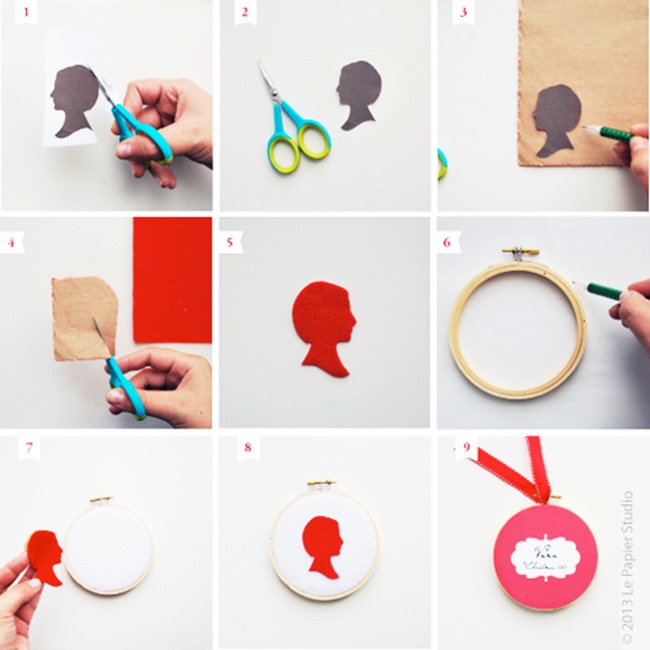 1. Download the template and gather all the materials needed for this craft.
2. Start by cutting out the silhouette*. Trace your silhouette on the back of the sticky-back felt and cut.
3. Next, cut a large enough circle to cover the 4.25″ hoop. Use the wooden hoop to guide you (as shown in the picture above).
4. Insert the felt piece you just cut into the loop. Remove the paper from the sticky-back of the silhouette and place on top. To secure the silhouette even more or for a decorative touch, you can chain stitch around the edges of the silhouette (this is completely optional).
5. Cut the printable backing template and glue on the back of the ornament. This will create a nice finished look. You can add your personal note here or your child's name and age. Hang with ribbon!
Wasn't that easy? You can create one for each family member, including your furry friends.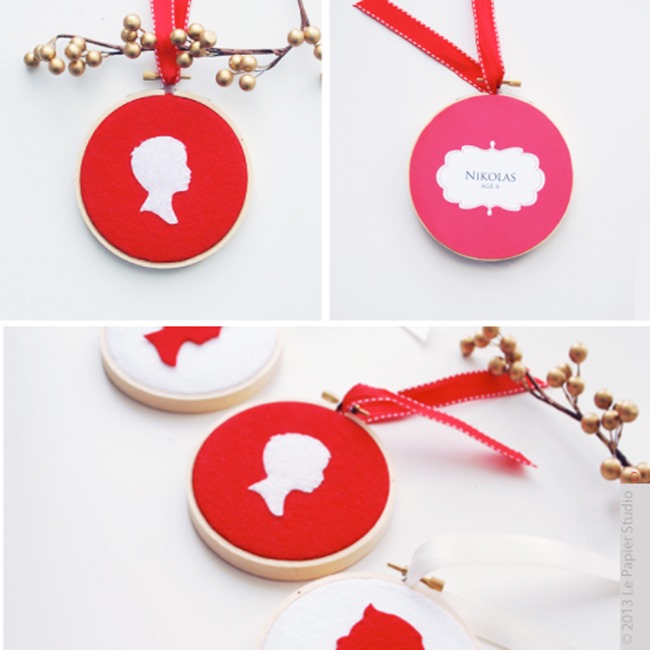 *Note on Silhouettes:
Creating silhouettes from your photographs is super easy. Here are a few steps you can follow to create the perfect silhouette:
– Snap a profile picture of your child/pet against a well-lit wall. They can face right or left.
– Take the picture at their eye level. For best results, stand about six feet away from your subject.
– If you're taking a picture of a baby, the best time to do it is when they are asleep. Gently turn the baby's head to one side, and take the photograph from above.
– Once you have the picture printed, cut around the edge/outline of the face (including the neckline). This template is your silhouette! Easy right?
For more fun ideas and crafts utilizing your loved ones' silhouettes, check out my book, Silhouette
Art.
————————————————————————-
You can always find out Vana's latest creation by following Le Papier Studio on Twitter or Facebook. There's always something pretty on her website and Le Papier Blog!
—————————————————————————
Giveaway Time!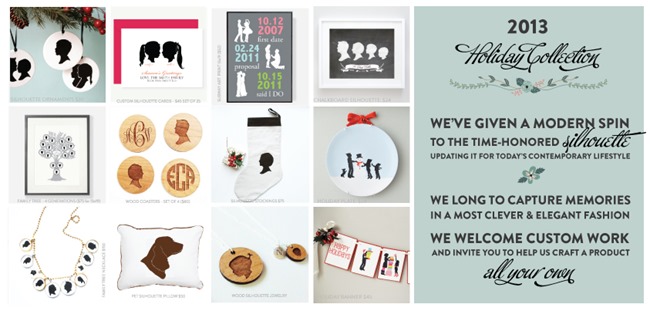 Visit Le Papier Studio and see all the beautiful silhouette creations…they are the perfect holiday gift! Don't miss the adorable pillows!!!

Vana has been kind enough to offer one Everything Etsy reader a $50 gift certificate to shop at Le Papier Studio!
You can enter with the widget below…
Good luck!
~Kim